As a couple, on your own or with family, visit La Rochelle in Charente Maritime. On the agenda for your getaway: charming little olde-worlde streets, trips out to sea, bike trips and 100% nature ... not to mention local products for you to discover on the market stalls!
Absolute must-sees: all the heritage of the old town, the historic heart of La Rochelle
La Rochelle reveals its best-kept secrets and greatest architectural treasures to curious visitors who tread the cobblestones of its streets.
Start your tour under the Grosse Horloge clock tower which marks the entrance to the old district of La Rochelle. Along the way: half-timbered houses, alleys and arcades, vaulted secret passages, gargoyles, large 18th-century shipowners' mansions … the whole history of La Rochelle is told through its exceptional heritage.
During your tour of the old town, make sure you look up to observe the sometimes discreet details on the facades of houses and monuments. To help you, plaques hung on the walls of streets and alleys have plenty of stories to tell.
Visit La Rochelle with a guide
La Rochelle Océan Pass, c'est le bon plan pour ne rien rater ! Pratique et économique pour visiter le meilleur de la destination et ses alentours. Ce city pass vous permet de bénéficier d'un accès inclus aux musées, expositions, monuments, activités, visites et excursions, aux transports, mais aussi à des avantages tarifaires pour certains sites.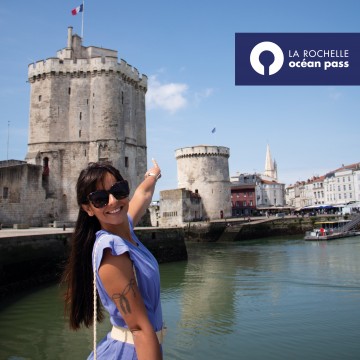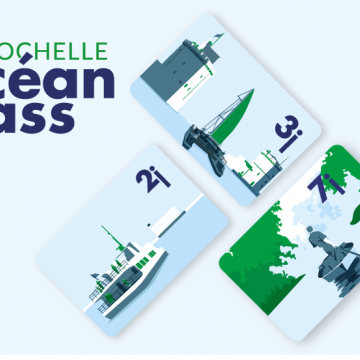 À voir absolument : tout le patrimoine de la vieille ville, cœur historique de La Rochelle
La Rochelle dévoile ses plus beaux secrets et ses plus grands trésors architecturaux à tous les promeneurs curieux qui foulent les pavés de ses rues. 
Prenez le départ sous la Grosse Horloge qui marque l'entrée du quartier ancien de La Rochelle. Sur votre chemin : des maisons à colombages, des ruelles et des arcades, des passages voûtés ou secrets, des gargouilles, des grands hôtels d'armateurs du 18ᵉ siècle… c'est toute l'histoire de La Rochelle qui se raconte à travers son patrimoine exceptionnel.
Lors de votre balade dans la vieille ville, prenez soin de lever les yeux pour observer les détails, parfois discrets, sur les façades des maisons et monuments. Pour vous accompagner, des plaques accrochées sur les murs des rues et ruelles ont bon nombre d'histoires à vous conter.
Visit La Rochelle by sea: trips to do out on the water
Located on the ocean's edge, La Rochelle is a maritime city par excellence. Its surrounding waters, protected by the islands of Ré, Aix and Oléron, offer exceptional sailing conditions. 
Setting off from the Old Port, at the foot of La Rochelle's towers, take one of the boats for an exciting sea trip and enjoy the fresh sea air. Head off to discover the landscapes of La Rochelle's coast, its limestone cliffs, its astonishing Lighthouse at the End of the World and famous Fort Boyard.
In the Minimes district, the Pleasure Marina, the premier port on the Atlantic coast, is a welcome sight for sailors looking for a stopover. While the surroundings and quays of Port des Minimes are ideal for wonderful walks among the boats, they're also perfect places to learn to sail or practise all kinds of nautical activities.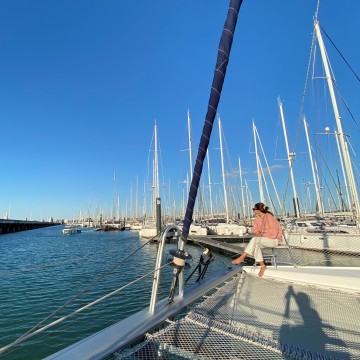 Go green: heart-of-nature trips to do in La Rochelle
La Rochelle is the ideal setting for recharging your batteries and getting away from it all in a protected natural environment. 
The first thing to do during your stay: swap your car for a bike, your shoes or even the sea bus! Pedestrian sector, cycle paths, hiking trails, self-service bicycles, ferryman and electro-solar sea bus ... here, you can easily turn your trips into fun moments. Take the opportunity to stroll through the many parks and green spaces in the heart or on the edge of town, some with sea views.
From beach to beach and port to port, the coastal path and its various features can be discovered during long walks or bike rides. Cycle fans can take the Vélodyssée path which passes through La Rochelle. Nicely laid out, safe and with plenty of tourist stops, this cycle route is suitable for an outing for two, with friends or family.
Stroll through the markets of La Rochelle: from stalls to dishes, try out the local flavours
Unmissable places for fine local food, the markets of La Rochelle are a great way to discover the region. Here, you can find typical products from the region such as oysters, "farcis charentais", goat's cheese and "pineau", as well as meet the producers.
If you like fish, shellfish and crustaceans, lots of restaurateurs offer the unmissable seafood platter and cook sea bass, stone bass and other fish direct from the auction at La Rochelle's fishing port. Don't miss out - book your table on the terrace overlooking the sea.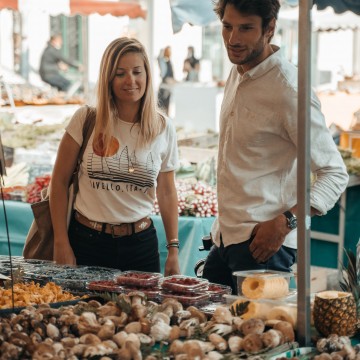 Our ideas for evening activities
See you at La Sirène in the Pallice district. This former silo was rehabilitated in 2011 into a Music Space and now has 3 stages of 1000 m² and 2 concert halls... Discover the concert schedule. 
In the city centre, you can find La Coursive, a national stage, as well as the Comédie La Rochelle theatre for spectacular evenings...
Finally, if you are in a gambling mood, we recommend the Casino Barrière located in the Mail district.