To make getting around easier during your stay, check out all the different modes of transport for a stress-free holiday in La Rochelle. Highly practical, they let you travel around La Rochelle as far as the surrounding villages with so much to explore.
Visiter La Rochelle et ses alentours sans voiture
Comment vous déplacer sur la destination Atlantique sans voiture et ne rien manquer des incontournables de La Rochelle ? On vous dit tout !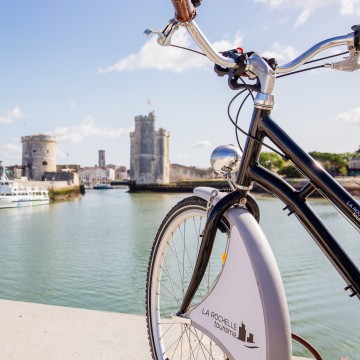 Maritime connections and rentals
Getting around ... by sea
Take the ferry and sea bus to cross the Old Port more quickly and get around as if you're on a mini-cruise.
Park your car easily in one of the P+R car parks in La Rochelle. Ideally located, they will allow you to easily reach the city centre of La Rochelle and to enjoy the old town with peace of mind.
Discover also Les Estivales !
The Estivales are tourist sites that can be served by certain regional bus lines during the summer season from April to October 2022.
Cœur de ville piéton à La Rochelle
Cet été, la Ville de La Rochelle a décidé de reconduire la piétonnisation du centre-ville à partir du 2 juillet et ce, jusqu'au 31 août pour un cœur de ville toujours plus attractif et apaisé en pleine saison touristique.
To each his own style
Recommended for you
Family, two or solo … Find smart ideas to satisfy all your desires.