When you discover a new city, it is important to discover the local and local products it offers. Whether with fish specialties, seafood or cognac, there is something for everyone!
Where to eat in and around La Rochelle?
Around the Old Port or in the old town of La Rochelle, on a terrace or in the cosy confines of a brasserie, give in to the gourmet pleasures of the great chefs' tables, bistros and restaurants of La Rochelle and the surrounding area. Fresh products from the many local markets, inventive combinations of flavours from here and elsewhere, dishes with a taste of the sea... the menus concocted by the chefs are full of creativity!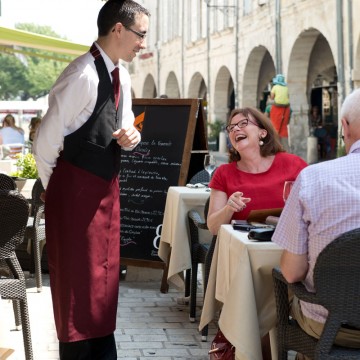 Michelin-starred restaurants
From Coutanceau to Pierre Gagnaire, treat yourself to an exceptional dining experience.
The most beautiful markets in La Rochelle
In La Rochelle, the most beautiful markets come alive all year round to the rhythm of the seasons. Come and fill up on Charente-Maritime products and feel the excitement of the market in the early morning. Here the conviviality is established even on the terraces of the surrounding cafés and one shares with pleasure the enthusiasm and the good mood of the shopkeepers.