Are you looking for a Michelin-starred restaurant in La Rochelle or a chic, gourmet restaurant? Check out our selection of Michelin-starred establishments awarded by the Red Guide to savour refined cuisine. From Coutanceau to Pierre Gagnaire, treat yourself to an exceptional dining experience.
Dinner in a Michelin-starred restaurant in La Rochelle
Do you dream of having lunch or a romantic dinner in a Michelin-starred restaurant? Enjoy an unforgettable gastronomic experience in one of the two Michelin-starred restaurants in La Rochelle.
Christopher Coutanceau, 3-star restaurant in La Rochelle
Located on Concurrence Beach, a stone's throw from the city centre, Christopher Coutanceau won his three Michelin stars in 2020. A regional gastronomic benchmark since the restaurant was created by his father Richard in 1984, the Relais & Châteaux establishment is now a member of the Great Tables of the World.
Facing the Atlantic Ocean, with a breathtaking panoramic view of the bay of La Rochelle, the entire restaurant pays homage to the ocean. Sand walls, beige tones, ceiling inspired by the seabed, plant-based tassels, a sea-motif carpet: here, everything is turned upside down, almost submerged. 
In harmony with the sea's seasons, the cuisine of the chef from La Rochelle, who won the Michelin Sustainable Gastronomy award, promises an exceptional culinary experience based on seafood.
Where can you find a gourmet restaurant in La Rochelle?
Are you looking for a great place to eat in La Rochelle referenced by famous gastronomic guides such as Michelin or Gault & Millau? Discover the popular restaurants in La Rochelle selected by French food critics.
Michelin-starred restaurant, Assiette Michelin, Bib Gourmand, Macaron or Etoile Verte, a dozen restaurants in La Rochelle are recognised by the famous Red Guide.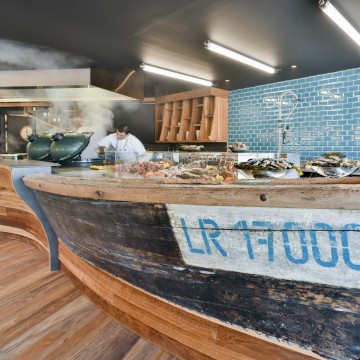 In La Rochelle, around twenty restaurants are listed in Gault & Millau, the guide for gastronomy lovers!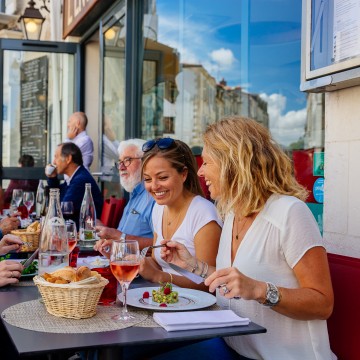 Exceptional dining experiences and chic restaurants in La Rochelle
Are you looking for an exceptional dining experience in or around La Rochelle? We've selected four chic gourmet restaurants for you located in Châtelaillon-Plage, La Rochelle and Saint-Rogatien.
Gaya, a restaurant by Pierre Gagnaire
The famous chef Pierre Gagnaire, with three Michelin stars and a member of the Culinary Academy of France, has opened a restaurant in Châtelaillon-Plage, the seaside resort of La Rochelle. This gourmet restaurant within the La Grande Terrasse thalasso-spa complex is one of 19 other Pierre Gagnaire establishments around the world (Paris, Tokyo, Dubai, etc.).
Chef Philippe Brun and pastry chef Bastien Gasnier respectively ensure the transmission of seaside cuisine developed by Pierre Gagnaire. With a 360° view of the ocean, the establishment promises magnificent sunsets over the sea.
Cuisine cannot be measured in terms of tradition or modernity. We must appreciate the loving approach of the cook.
La Yole de Chris, the sea bistro
Backing onto the restaurant of Christopher Coutanceau, the three-starred chef and his partner opened an original place where the marine menu is based around fish from the day's catch, shellfish and crustaceans, raw or cooked on the grill or over a wood fire. 
A long bar in the shape of a skiff (yole) holds a seafood buffet for continuous catering 7 days a week from 11.00am to 11.00pm. A venue that's both relaxed and chic for lovers of authenticity, simplicity and goodness!
Les Flots, the restaurant of Grégory Coutanceau
At the foot of the Chain Tower in a former tavern, Les Flots remains a legendary restaurant from the Coutanceau lineage. The chef and caterer Grégory Coutanceau creates refined cuisine where the flavours of the ocean take centre stage. 
Ideally located in the old port so emblematic of La Rochelle, the gourmet restaurant Les Flots offers an exceptional maritime taste experience. Grégory Coutanceau offers a wine list of more than 800 references, awarded the prize for the most wonderful wine list by the magazine Terres de Vins.
Fans of gourmet cuisine can also indulge in a cooking class with tasting at the cookery school of chef Grégory Coutanceau.
La Pierrevue, a chef with inventive cuisine
Chef Cécile Briaud-Richard set up her stove in Saint-Rogatien, in an old renovated farm. Every two months, the cook adapts her recipes to the seasons with a new menu based on modern, inventive cuisine.
While the evening menu is more technical and gastronomic, Cécile offers a simpler formula for lunch with a menu that takes "inspiration from the market". A small vegetable garden behind the restaurant recalls the chef's family history, as the daughter and granddaughter of farmers.
To each his own style
Recommended for you
Family, two or solo … Find smart ideas to satisfy all your desires.