Animal parks: where can you see animals in La Rochelle and its surroundings?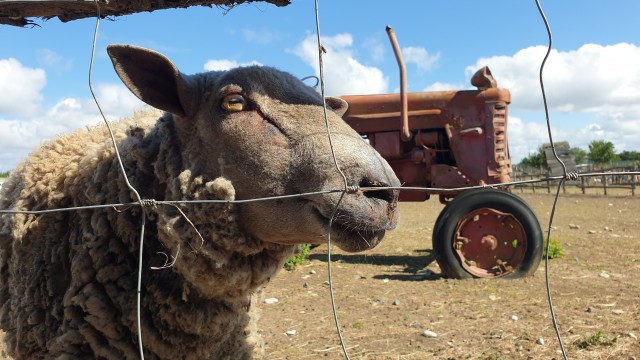 favorite_border
Whether young or older, seeing animals is always a delight, a time to get back to nature. There are a thousand ways to meet animals and share an unforgettable family experience around La Rochelle. Here we explain where you can observe them, in their natural environment, in an animal park or in a farm.
Beltrémieux animal park: a zoo at the heart of La Rochelle
No need to travel for miles to see animals. Located near the town centre, down the Mail alleys and a few steps away from the beach, the Charles Edouard Beltrémieux animal park is a local institution. Our elders say "the park of animals", as children call it, has been in La Rochelle's landscape since forever. The urban zoo was officially created at the heart of the city back in 1945, however the presence of animals dates back to 1890, a testimony to its popular anchoring in the history of La Rochelle. 
The 4-hectare site, established in Parc Charruyer, is a genuine animal shelter. It harbours a large number of birds, either wild, in specially arranged pens or in aviaries: over 350 species are recorded, not counting the birds on a stopover site or seeking shelter during seasonal migration. You will be able to see: budgies, ducks, wild geese, peacocks, swans, cranes and so on. 
Following a route along the canal, between green spaces, pens, water bodies, lawns and playgrounds, the path winds through fallow deer, ponies and African Pygmy goats. 
More than a mere animal park, its aim is to be a conservatory for local species: the Baudet du Poitou, the Marans chicken and the Blanche du Poitou goose are among its most iconic species. 
Here one should behave in a responsible way: while it might be tempting to give food leftovers or stale bread to the goats, it is actually forbidden to feed the animals. 
 
Observing animals in their natural environment
Did you know? From the north to the south of La Rochelle, the agglomeration is located on a major European axis of migration for birds. With several sensitive natural reserves and areas such as the Marais of Yves, of Pampin, of Tasdon and the Pointe Saint-Clément, the destination is a spot of choice to observe numerous species! 
From autumn to the return of spring, birds from northern and eastern Europe take shelter for the winter or use it as a stopover site on their route to Africa. Meaning that depending on when you go, you will be able to see ducks, teals, barnacle geese, shelducks or sandpipers...
In addition to birds, they are often populated by a diverse local and wild fauna seeking refuge. Amphibians, insects and mammals such as foxes, otters and roe deer can be observed.
Put on your boots or trainers, take a pair of binoculars, keep your ears open and be on the lookout! Vantage points, explanation signs, observatories, "maisons de site" (literally, "site houses", buildings aimed at showcasing a natural or cultural site)...: a number of installations are designed to make the most of these remarkable sites. 
There are a few rules to comply with in these peaceful settings: stay on the marked trail, respect the quietness of the place, do not leave any traces of your being there and make sure to pick up your waste. Last but not least, do not feed the animals.
While they are mostly freely accessible, these sites can also be discovered through guided tours organised by environmental associations, which are subject to booking and are limited to small groups. Magical moments, as close to a preserved, wild nature as can be.
Your dream is to see dolphins?
While there are no organised outings to observe the marine mammals, you might be lucky enough to see some when navigating between islands. It is not unheard of for sailors to have had such charming encounters off the islands of Ré, Aix or Oléron.
Aquarium and Museum: observing and understanding to better protect
Aquarium La Rochelle remains the most favourable site to observe fish and other marine species, with an immersion in the depths of our planet: from the Atlantic to the Pacific, from the Caribbean to the Mediterranean. A unique opportunity to contemplate numerous species from around the globe, in a single location. 
A 2-hour visit that will bring you constant wonder observing nearly 600 species: seahorses, octopi, turtles, jellyfish, clownfish, scorpion fish... not forgetting sharks! With explanations on the way tides work, on the species, their environment, their way of life, the visit of Aquarium La Rochelle is also educational and instructive. 
Travelling at the heart of the oceans
Aquarium La Rochelle is open 365 days a year and takes us 20,000 leagues under the seas of the globe.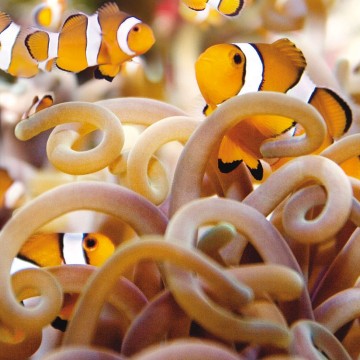 Nature preservation starts with awareness. So do not hesitate and take the children and the entire family to the Natural History Museum to understand, raise awareness and interest for the animal world and its diversity. 
A place of conservation and scientific research, the museum tour guides us in the footsteps of naturalist explorers on the lookout for the fauna from here and from elsewhere. Among its great zoological gallery: Insects, birds, molluscs, vertebrates and invertebrates... As well as extinct species such as the dodo. A tour from a science perspective to have an open outlook on the world around us.
Discover the rich collections of the Museum, which has been awarded the "Musée de France" label, spread over 5 floors and located next to the Jardin des Plantes in La Rochelle. Our little tip: keep an eye out for the Museum's diary, which regularly offers workshops and activities for all ages!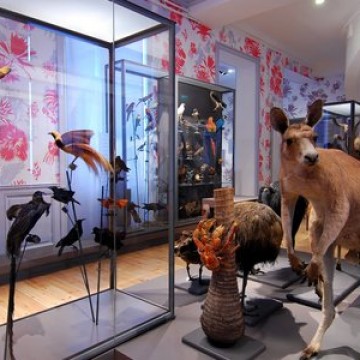 Educational farms: an immersion with the animals 
Getting as close as possible to the animals, sharing a moment with them and living a unique experience... that is the ambition of the educational farms in the agglomeration of La Rochelle. Donkeys, goats and even ostriches, professionals are pleased to welcome you to their farm and to share their vocation and their passion with you. 
Farm visits, workshops, tastings, excursions with the donkeys...you can mix learning and fun and then go for a browse in the farm shop to buy some local produce.
Around La Rochelle
As you can see, the destination offers thousands of opportunities to observe animals, understand their position and their role in biodiversity and thus protect them better. Moments you can share as a family, close to nature, and which will leave long-lasting memories. If you are staying long enough, we also suggest you go observe the fauna in the vicinity of La Rochelle. Within more or less an hour's drive, you can delight young and old with the Zoo de La Palmyre, the Zoo de Mervent, Les Oiseaux du Marais Poitevin ornithological park and the Fier d'Ars natural reserve in Île de Ré.