Yes, sometimes the weather forecast throws a tantrum in La Rochelle too... But don't let that put a black cloud over your head!  Here are some of the trips and activities you can do while waiting for the sun to come back out (and it will definitely be soon)!
Visit La Rochelle's must-see sights
La Rochelle is a city full of stories and anecdotes to be discovered under cover of the rain in numerous sites and monuments. Go to the heart of each of them to find out all about the maritime city and let yourself be taken on a journey of discovery, sometimes surprising... Whether it's raining or not, you'll be totally immersed in La Rochelle's heritage and major sites. 
Every year and in every season, La Rochelle's tours offer a rich and varied cultural programme: exhibitions, concerts, storytelling, workshops for children, guided tours... great ideas to discover this remarkable heritage.
The La Rochelle Aquarium takes you to meet more than 12,000 marine animals... The best plan for this summer? The Aquarium is open every day until 11pm in July and August. Take advantage of the night-time opening hours to discover this quiet place and avoid the queues.
And don't forget the city's many museums to visit... without getting wet! The Natural History Museum, the New World Museum, the Protestant History Museum of La Rochelle, the Maritime Museum, the Museum of Automatons and Scale Models... you are sure to find what you're looking for in the many worlds of their permanent and temporary collections. 
Tip: visit the Bunker of La Rochelle! Built in the centre of La Rochelle in an incredible 300m² blockhouse dating from 1941, its scenography gives you the opportunity to discover the history of La Rochelle from 1939 to 8 May 1945, the date of its liberation.
Have fun by doing an activity
Whether you are with family or friends, don't suffer from this bad weather and take advantage of it to swim (and yes, even when it rains, it is possible!) in an aquatic area, work out with sports in the gym or laugh all together around board games! Discover indoor activities.
Or come and have fun in a warm place at the Cabanes Urbaines, a place of sharing and cooperation.
No children to look after? Take the opportunity to be pampered. Thalasso, balneotherapy or wellness centres... One thing is certain: relax. 
And why not try your luck at the Casino Barrière La Rochelle? An exceptional facility along the Allées du Mail in the town centre: panoramic views of the ocean and all kinds of entertainment await you all year round.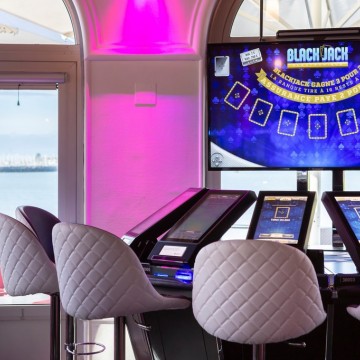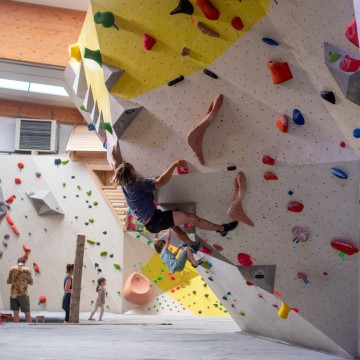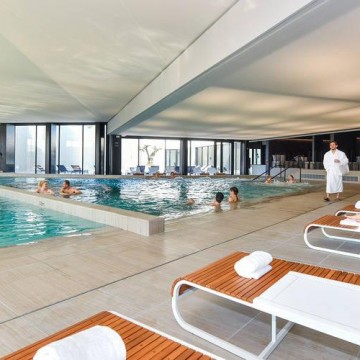 Shopping in the shelter of the arcades
La Rochelle has a definite advantage, both aesthetic and practical: its arcades! Underneath these architectural masterpieces are numerous shops selling clothes, home decoration and other souvenirs to take home.
And why not discover the local flavours by taking shelter under the 19th century market halls of La Rochelle ? In the heart of the old town, let your senses vibrate during a gourmet stroll through the market. Smells, colours, flavours and encounters with the shopkeepers make this a time for sharing and conviviality.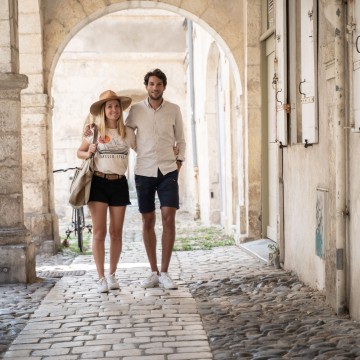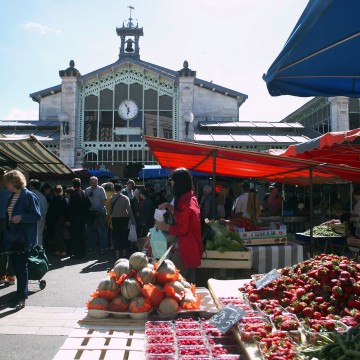 Make yourself comfortable... in theatres
Between laughter and escape, well installed in the soft seats of a theatre or a cinema... there's nothing like it to forget the dullness!
Two cinemas open their doors to you in La Rochelle: 
Vieux-Port: Cinéma CGR Dragon
Quartier des Minimes : Cinéma Méga CGR

Original idea: book your seat at the Cabaret! L'Entrepôt in Périgny offers a number of shows, including a colourful show combining feathers and sequins in an intimate and cosy room.