The must-see 19th century market halls !
Published 23/09/2019 - Updated 14/01/2022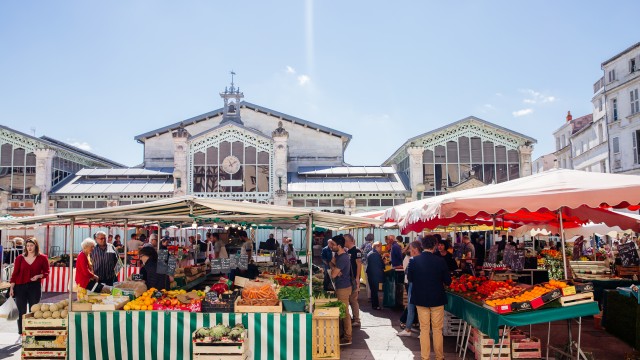 favorite_border
At the heart of the Vieille Ville (old town) the covered market was established from 1834 to 1836 on the site of the Grande-Boucherie, the town's first meat market hall. Today the market is where local flavours, aromas and a friendly atmosphere all come together!
The first thing you will notice is the noise!
Before you can even see the stalls, you can hear the murmur of people talking, haggling, laughing and traders singing their products' praises... "My sole is fresh! It's fresh!!!". After all, the whole reason for going to a market is it's guaranteed to be fresh!
Start by randomly wandering around the stalls to get a feel for the products available and how much they cost. The fish' bright eyes and vibrant red gills, the colourful gleaming seasonal fruit, the original forms of old-fashioned vegetables that get a new lease of life at the market... While you are wandering around, ideas of what you want to make for lunches and dinners start popping into your head.
And let's not forget about its setting.
At the heart of the historical centre, the 19th century market halls are all made of wrought iron, glass and bricks and they face a pretty half-timbered house. Although it is mainly made of frosted-glass, the market front is still mysterious and piques your curiosity... give in to the temptation and go inside to discover the products and stalls among the queueing customers.
The big markets are on Wednesdays and Saturdays
On Wednesdays and Saturdays the stalls spill out from the market halls into the neighbouring streets. Go and meet greengrocers and market gardeners at their multicoloured stalls where you will be able to find the sweet and juicy Charentais melon in summer. At the fishmongers' stands there is seafood, Marennes oysters and Charon mussels. As for the butchers and deli workers, you have really got to try the pork scratchings and Charentais stuffing, an exquisite pâté... made of green vegetables!
After tasting the products at the cheese-dairy stands, go and meet the wine merchants who will help you discover a local prestigious range of Cognac, Pineau, Vins de Pays and liqueur.
Before you go, make sure you take the time to stop for a coffee out on the terrace of a cafe next to the market where you will still be able to soak up the atmosphere from this must-see market in La Rochelle!
Awaken your senses!
To each his own style
Recommended for you
Family, two or solo … Find smart ideas to satisfy all your desires.