Where to brunch in La Rochelle ?
Published 04/09/2019 - Updated 12/12/2019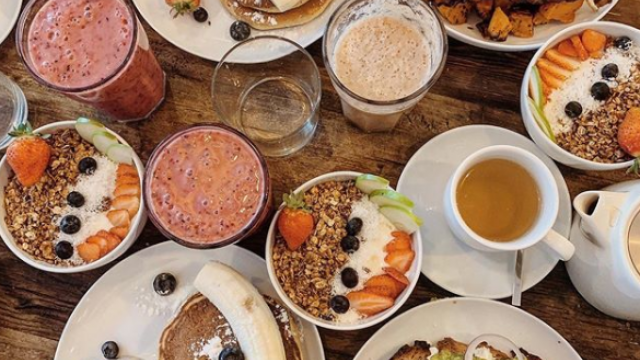 favorite_border
Sunday, we like to take the time to enjoy in La Rochelle ! The brunch are close to a tradition and we like that. We offer you our selection of the best brunch in La Rochelle!
Palem Café, healthy brunch in La Rochelle
See you at Palem Café for a good brunch full of flavors! The neat decor between touches of wood and green plants already announces the color: here, you will spend a comforting and refined moment! Kelly and PN offer you a menu inspired by their travels and composed only of fresh products (if possible organic and local). We love being able to choose between the many vegetable milks and have a vegan option on the dishes!
Favorite: Try the avocado toast and their generous portion of homemade guacamole ... ?
Palem Café
23 rue Armelot
17000 La Rochelle
05.46.28.42.70
L'entourage, the brunch with friends in La Rochelle
Every sundays at the Entourage, the atmosphere is very great ! Very famous for the local people, the restaurant are a truly call to the greed. On the menu: white cheese, fresh fruit, cheeses, pastries, but also charcuterie and hot drinks ... enough to be satiated for the whole day!
L'entourage
23 rue Léonce Vieljeux
17000 La Rochelle
05.46.27.68.55
In Hortense, the brunch offset in la Rochelle
Chez Hortense Bistro is also a special place for Sunday brunch! Settle down at one of the small tables in a colorful decor.
Chez Hortense
4 rue des Carmes
17000 La Rochelle
05.46.41.16.50
The Prao, for an intimity brunch
It's Sunday, you got up late and have nothing in your fridge? Direction the Prao and its vintage decor to feast. Ideal for a moment to two, the brunch comes in several formulas but always based on fresh produce. Whether you are more pancakes than toast or coffee rather than fruit juice, choose the menu that suits you!
Prao Restaurant
10 rue Saint-Nicolas
17000 La Rochelle
05.46.37.85.46