The post-season in La Rochelle
Published 06/09/2019 - Updated 25/01/2022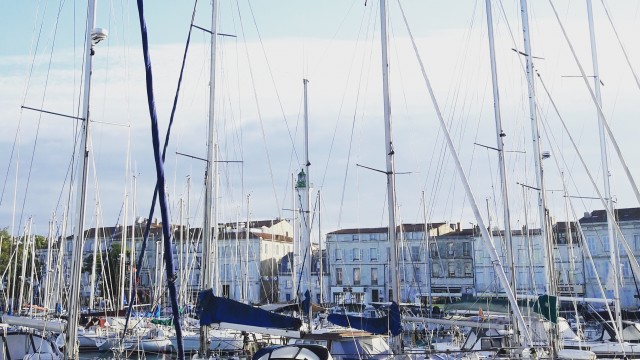 favorite_border
Another side to La Rochelle 
After the festive hustle and bustle in summer, the lively atmosphere around the Vieux Port (old port) docks and in the Vielle Ville (old town) and the picnics in the parks overlooking the sea, we see a different side to the city.
Firstly, the change in light... Bright and soft at the same time, there is a beautiful play of light with dancing shadows and lights on the sides of houses and amazing shimmering silver glinting in the waters at the Vieux Port.
And then there is the fresh, invigorating, salty sea air... We are starting to get our coats out the wardrobe to walk through the Vielle Ville or by the sea. 
The parks are calm and serene again and you can enjoy the coastal landscapes and the viewpoints on the horizon. From the Promenade de la Concurrence and the Parc d'Orbigny you will discover the Port de Plaisance with its new sea wall from the Nouveau Monde or even the Richelieu buoy that signals the end of the old sea wall built by Richelieu during the siege in 1682.  Next to the Parc des Pères in the Minimes district, you will see the three islands of Ré, Aix and Oléron. And if you are lucky and there is a clear sky you can even see the Fort Enet and the Fort Boyard. If you like long, quiet promenades, head for Houmeau for a long walk to Lauzières and even beyond that (north-west of La Rochelle).
In the evening, zip up and lay your towel out on the beaches (in Aytré, Houmeau or La Rochelle) looking out over the horizon to experience some incredible sunsets.
Go to all kinds of events
As for trips and events, the town doesn't stop... you could say there is always something going on in La Rochelle ;) ! Terraces where we meet up with friends to sunbathe, and as for events, there is no such thing as the post tourism season of events in La Rochelle. There are water sports (La Rochelle's Grand Pavois, Mini transat), sport (La Rochelle's marathon: Serge Vigot) thematic exhibitions (on decor, antiques, food, chocolate) cinema (International Adventure Film Festival), and music (Jazz Entre Les Deux Tours festival) right up to December when the Christmas events start... you never get bored!
The arrival of Autumn means evenings tucked up in the warm and cosy bars. Many of them offer events and mini concerts. And November means it's scallop season! So if you like to cook, you need to get along to La Rochelle's markets where the fishmongers will give you good advice on how to prepare them. But if not come along to La Rochelle's restaurants where we will cook them for you in all kinds of sauces!
How nice to enjoy life in a city that's always happy!  
To each his own style
Recommended for you
Family, two or solo … Find smart ideas to satisfy all your desires.