Spring in La Rochelle is simple and family-friendly. Its landscapes and coastline offer a host of opportunities to enjoy unforgettable moments with loved ones. Between the numerous parks and green spaces, the region's nature reserves and the long coastal and countryside paths, it's easy to find a little corner of nature to get away from it all ... Discover our suggestions for a trip away from the crowds, back to basics and all in the great outdoors!
Top 5 things to do with your family
Find our Top 5 family and outdoor activities in La Rochelle: cycling, sea outings, meeting animals, visits...
Share an outdoor lunch
Take advantage of the mild spring weather to organise turnkey picnics in quiet and charming outdoor locations. The children will be delighted to be in large, beautiful spaces to have fun in complete freedom; and you will be delighted to take the time to enjoy good food in a relaxing setting.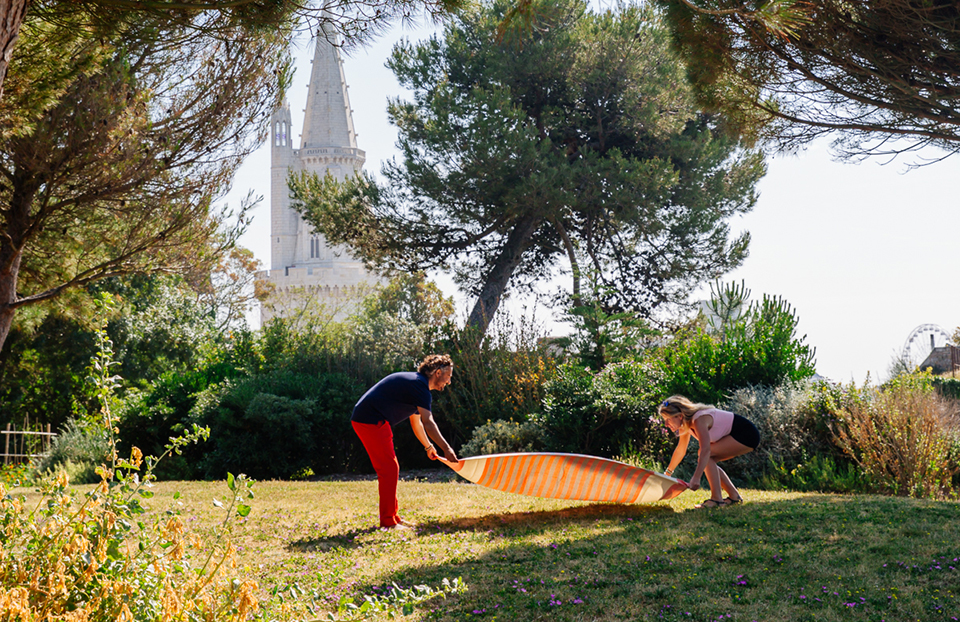 For a picnic by the sea, we recommend:
Enjoying your meal with your feet in the sand on the huge beach of Châtelaillon-Plage.
Taking a seat on a bench in the shade of the trees of Parc d'Orbigny.
Snacking with a view of Fort Boyard along the Parc des Pères.
Settling down on the gorgeous pebbles (flat and smooth, perfect for learning to skip stones) of l'Houmeau beach.
Eating on the grass before dipping your toes at Chef de Baie beach.
For a countryside picnic, we prefer:
Feasting on architectural treasures such as the Saint-Martin church in Esnandes. To help burn off your lunch, explore the surroundings by following the Esnandes discovery trail. Between land and sea, this village is sure to amaze you.
Spreading your picnic blanket in a green park in the heart of the village of Salles-sur-Mer.There, you can continue your afternoon by stretching your legs as you follow the discovery trail. Salles-sur-Mer is full of treasures of cultural heritage and local legends. Children will love it!
Taking a seat in Périgny park and relaxing while the children enjoy the large green spaces and let off steam.
Taking a walk in the shade of the trees along the Rompsay Canal before enjoying lunch with the family in the Bois de Pins woods in Dompierre-sur-Mer.
Sleep closer to nature
Sleep close to the farm animals, awaken in the midst of lush greenery and enjoy the tranquillity of calm and peaceful locations ... La Rochelle and all its countryside corners are available to you and promise unforgettable, timeless family experiences.