Festivals in the theatres
A rich and diverse cultural programme
La Rochelle took the step to cultural dynamism a long time ago. This is reflected by the high number of cultural venues which have stood the test of time in the cultural programme like lighthouses:  La Coursive, Le Centre Chorégraphique National (The National Centre for Dance), La Sirène… And on top of that there are very famous music, dance and theatre festivals, museums with new seasonal exhibitions every year, artists' homes, theatre companies and cultural practice associations.
As for music, the current music room in La Rochelle's La Sirène offers a rich and eclectic programme every year: hip hop, funk, metal, world, rock, punk, ballads, electric... you will definitely find something for you! Located in an old granary of the Port de Commerce (commercial port) in La Pallice, which has been completely redesigned by the construction team (Patrick Bouchain, Loïc Julienne and Chloé Bodart), La Sirène occupies a 3000m² space over 3 floors with rehearsal and recording areas, a resource centre, a club and a concert room with 1200 seats.  
As for shows, the national stage of La Coursive is the place where many contemporary circus, theatre, dance and music shows take place but there is also an art house cinema.  Every year it welcomes the La Rochelle International Film Festival. La Coursive goes from being a convent, to a tobacco manufacturer, to a customs warehouse, to a fish market, to a gym, to a cultural centre and then of course the national stage, where the programme is as impressive as its architecture, combining a contemporary style with an older feel.
All year round, the cultural establishments in the area are associated with the events that are held there, like the La Rochelle International Film Festival, Les Francofolies de La Rochelle music festival, the International Adventure Film Festival and loads more...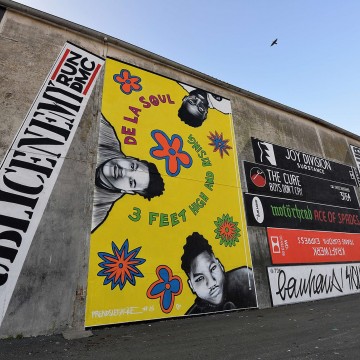 The history of music as seen by muralists
Current Music Fresco
Introduced in 2012, the current music fresco on the wall of boathouse 1 uses muralists to show the history of pop music through iconic figures from the 50s to present day. It can be seen from La Sirène's balcony and every year a new part is added by a different artist which is then unveiled at La Sirène's season launch party.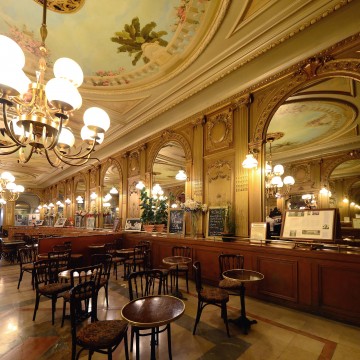 Go back in time at Café de la Paix
Following in the footsteps of Georges Simenon
Georges Simenon discovered La Rochelle for the first time by sea. He had a real soft spot for the place and its ambience, which inspired many of his popular novels. Simenon also liked to go to lots of the city's cafes, particularly Café de la Paix in the Place de Verdun in La Rochelle. An authentic café established in 1900, it is now a common meeting spot for the locals and the novelist's headquarters. Discover this incredible brasserie which will take you back to the good old days!
Artists in residence
At the heart of creation
La Rochelle regularly welcomes artists in residence, thereby showing their commitment to supporting creation in every which way. La Sirène therefore often welcomes artists that later appear on the main stage at Francofolies. But it's also at the Centre Intermondes, the international space for artistic residency, that you can find artists from all kinds of backgrounds and of all different artistic styles. They therefore benefit from a environment that encourages creativity and that is the perfect place to express themselves and the public is regularly invited along too.