And if we took advantage of the omnipresence of water in La Rochelle to test new experiences? Catch your oars and go live a stand up paddle session in La Rochelle.
Afternoon paddle in Aytré with friends
When the sea is calm, go to Anse Godechaud with friends to put his paddle in the water! Once standing on the board well stabilized, you just have to row while enjoying the current to let you wear. Enjoy this moment in the countryside to admire the cliffs of the Pointe du Roux, the decor is worth the detour! It is also the starting point for an excursion to the Bout du Monde lighthouse, also accessible from Minimes beach. Once back on the beach Aytré, organize a snack break: the opportunity to tell you your exploits at sea!
Where to find a paddle instructor in La Rochelle :
AWL Beach
Base Nautique des Minimes 
Avenue du Lazaret
17000 LA ROCHELLE
http://www.awl-airwaterloisirs.com
Relax time with yoga paddle with friends 
For a moment to live between girls, it happens at Glow Yoga: girly atmosphere assured with their pink boards! Inspired by California, yoga paddle is a way to relax while toning your body in preparation for sunny days! If you are already a fan of paddle in La Rochelle, you will love yoga paddle, follow the instructions of your instructor and follow the postures ... Without falling into the water!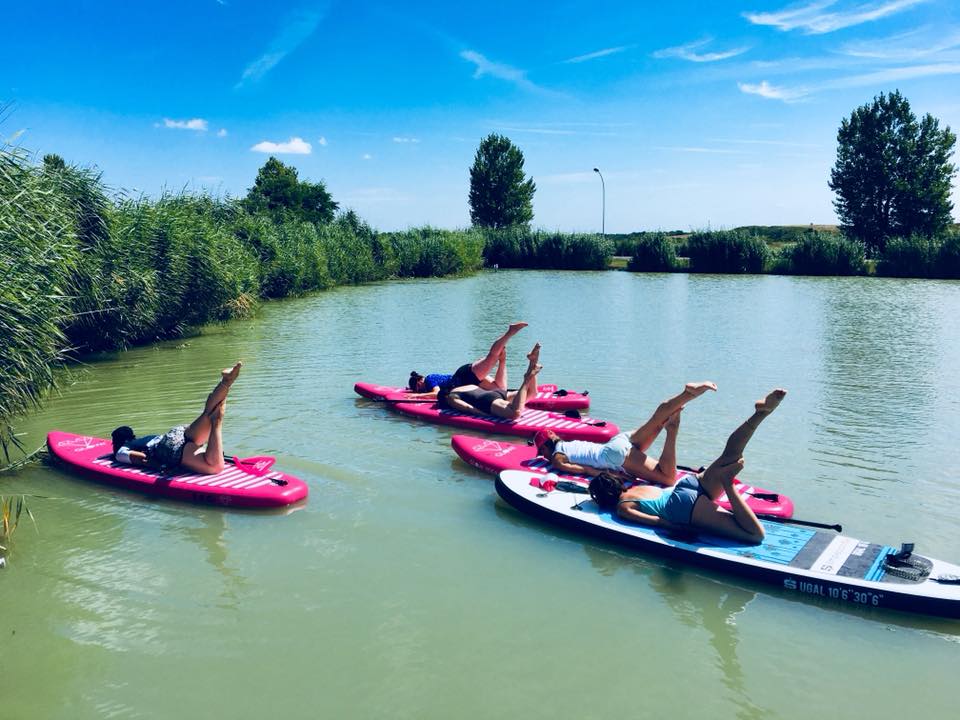 Wher you can tryYoga Paddle in La Rochelle :
Glow Yoga
https://www.glowyoga.fr/ 
Walk on the Rompsay canal with family 
Paddle in La Rochelle with your family is possible! Enjoy the calm waters of the Rompsay canal for a stroll with your little tribe: the program, laughter, new muscles and beautiful landscapes! Here, no particular difficulty, the board seems to slide alone on the water, even the most novices will manage to find their balance! After putting your arms to work, return to the mainland and discover the banks of the canal, an ideal place for many walks! And why not improvise a nap under the trees, just to recover before the return trip?
Where you can rent paddle in La Rochelle :
AlexLoc Paddle