Sailing on the open sea...
Published 04/10/2019 - Updated 01/06/2022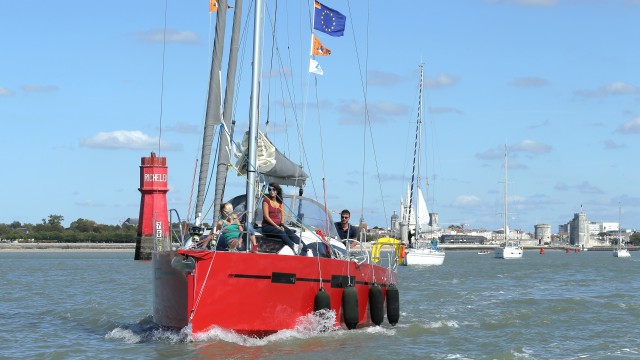 favorite_border
With just a glance at all the boats docked at the port or sailing on the horizon, it's clear to see that sailing is a key part of the daily running of La Rochelle! Beginners classes, competitions and recreation... There is something for everyone, whatever your level or style!
All aboard!
Before anything else, the captain will give your your life jacket (compulsory!) : and then we are off on our sea adventure from Port de Plaisance des Minimes! From the moment you leave the port you will be busy because the skipper gets you involved with: drills, sheets, the jib, hoisting the sail, the mast, the rudder, tacking etc... you are going to learn a wide range of niche sailing lingo.
With the sails up, the boat trip can start!
It feels completely different to being on a more stable cruise ship. The waves aren't as choppy but the strength of the wind in the sails makes the boat tilt. Naturally you will feel these strange sensations if it's your first time on a boat! If you are seasick, the best place to avoid being sick is at the helm...
And then look at you! You are sailing in the Pertuis Charentais! We are heading for the islands. The speed of the boat depends on the amount of wind in the sails, but when it's windy you will whiz away at top-speed. With the boat gliding over the water there is no greater sense of freedom than seeing the sea as far as the eye can see... As the time goes by, the colours change and the sun rises or sets depending on the time of day.
Head for the Vieux Port (old port)! It's time to go home. As you get near the channel maybe you will have the chance to do a little lap of honour around the Vieux Port!
Have you got sea legs?