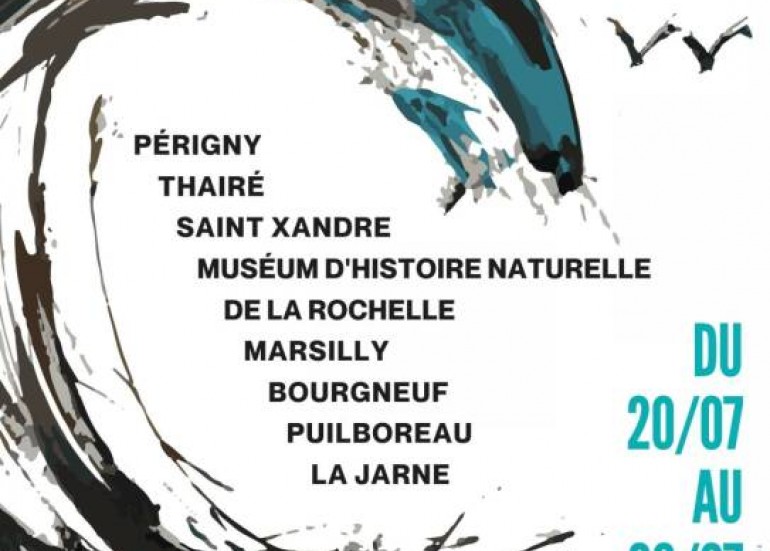 The Ondes Classiques festival is back for a 2nd edition!
8 communes, 8 concerts and 18 musicians for an exceptional program not to be missed.
- Périgny - Wednesday, July 20 - 6:00 pm
On Wednesday, July 20, Thibaut Reznicek and Raphaël Jouan will open the second edition of the Ondes Classiques festival.
A particularly assertive playing and a permanent quest for emotions for one, an elegant clarity and a suppleness of playing for the other, these two young cellists will make you live an unforgettable moment of sharing.
The concert will take place in Périgny, Parvis des droits de l'homme - See you at 6:00 pm!

- Thairé - Thursday, July 21 -7pm
On Thursday, July 21, find the pianist Gaspard Dehaene with the saxophonist Sandro Compagnon.
Gaspard Dehaene encountered Chopin's 4th Ballad at the age of 16, which made him abandon his childhood passion, tennis, for the passion of his life, music. From that day on, he began his career as a pianist following in the footsteps of his mother, Anne Queffelec.
As for Sandro Compagnon, he is known as a prodigious saxophonist with eclectic sounds. He is appreciated as much for his Jazz style as his Classical style. He started playing saxophone at the age of 6 with his father as a teacher.
The concert will take place at the church of Thairé at 7pm!

- St Xandre - Friday, July 22nd - 7pm
For this 3rd day of the festival Ondes Classiques, we will receive the Ernest Trio with pianist Natasha Roque-Alsina, violinist Stanislas Gosset, and cellist Clément Dami.
Founded in 2019 in Geneva, the Trio Ernest performs regularly in Switzerland and throughout Europe exploring with passion and creativity the piano trio repertoire.
Their various appearances are greeted with enthusiastic media acclaim:
"The complicity of this trio could be felt during the performance, happy on stage to share the music with a captivated audience", Julien Lucas - La Presse de la Manche.
We will welcome you at Salle de l'Agora in Saint-Xandre at 7pm!

- Natural History Museum La Rochelle - Saturday, July 23 - 11:00 am
On Saturday, July 23, come and discover the mezzo-soprano singer with a dark and generous tone Sara Paone accompanied by the guitarist Jérôme Brajtman.
These two artists know how to tackle a very varied repertoire. Thanks to her wide tessitura, Sara can go from the baroque style, to the belcanto, through the dramatic repertoire of the XIX century to the contemporary music. As for Jérôme Brajtman, he integrates and forms different groups with various styles and surrounds himself with musicians from different horizons: classical, jazz, gypsy, folk, Cuban, Brazilian,...
See you at the Natural History Museum of La Rochelle at 11:00 am!

- Marsilly- Saturday, July 23 - 7:00 pm
On the evening of July 23, pianist William Lecomte returns for your greatest pleasure accompanied this time by cellist Thibaut Reznicek. They will offer a unique concert where their universe meets.
William is an appreciated "sideman" and a thoughtful man. Pianist, composer and arranger are three of William Lecomte's qualities.
Thibaut Reznicek, this passionate explorer of the extreme, is back in another duo.
A musical promise full of energy to make classical music vibrate under jazz chords!
Make a note of this appointment: Saturday, July 23, 7pm at the church of Marsilly!

- La Rochelle - Sunday, July 24 - 11h00
Sunday, July 24 - Bourgneuf - 7:00 pm
On Sunday, July 24, you can discover the beautiful Onutė Gražinytė for a Piano recital.
The young Lithuanian pianist with a prestigious musical heritage, has nothing to envy to her sister Mirga Gražinytė-Tyla, world famous conductor.
A sparkling young woman who will blow you away with her talent!
See you at the church in Bourgneuf at 7:00 pm!

- Puilboreau - Monday, July 25 - 7:00 pm
On Monday July 25, we will welcome the famous Arnold Trio!
Made up of three young, whimsical and prestigious musicians: Shuichi Okada on violin, Manuel Vioque-Judde on viola and Bumjun Kim on cello, the Arnold String Trio is a rare and surprising object in the musical landscape.
Recognized as one of the most impressive young European ensembles, we are honored to welcome them to Puilboreau,
Make a note of Monday July 25th, Parc du Château de la Tourtillère at 7pm!

- La Jarne - Tuesday, July 26 - 7:00 pm
For a grand and prestigious closing, we have the honor to receive the pianist Alexander Gadjiev, Tuesday, July 26, Salle Méliusine in La Jarne!
Italian of Slovenian origin, Alexander Gadjiev has won several prizes in major international competitions, including 2nd prize at the Chopin Competition 2021 in Warsaw and the special prize "Krystian Zimermann Prize for the interpretation of a Chopin sonata", 1st prize at the Sydney International Piano Competition 2021, 1st Prize and Audience Prize at the Hamamatsu International Piano Competition 2015 " and 1st Prize at the Monte-Carlo World Piano Masters Competition 2018.
He is currently performing on stages around the world.
A friendly drink will be offered at the end of the concert: see you at the Salle Mélusine!
This translation is generated automatically
Adequate translation ?
Your request has been taken into account
Périodes d'ouvertures
From Wednesday 20 to Tuesday 26 July 2022.
Accès
Current trends
Internet users also viewed
Enjoy unforgettable moments in La Rochelle all year round. Accommodation, activities, trips out and walks… appealing ideas for your holiday.