Put on your boots, take a bucket under your arm and you're ready for the flagship activity of shellfish amateurs: shellfishing. A popular hobby on the Atlantic shore, it's easy to practice provided you follow a few rules. Oysters, clams, periwinkles and common cockles... How can you make the most of seafood while respecting their fragile environment? We went fishing for information! 
Where can you go shellfishing in La Rochelle?
While it is particularly popular during the great seasonal tides, shellfishing can be practised all year round when the tide is low. When the tide goes out, it uncovers the foreshore, a vast area between land and sea that turns into a favourite terrain for shellfish lovers. 
According to regulations, its practice during the day is authorised everywhere it is not prohibited. For instance, it is prohibited in port areas, 25 metres around mariculture plots and in classified habitats.
On the destination's coast, a few spots are well know to shellfishers: the Pointe du Chay near Angoulins, the long beach of Châtelaillon-Plage and the rocky foreshore of Nieul-sur-Mer are among the favourite spots. 
While shellfish can be found everywhere it is not forbidden on the coast, we recommend you start with these clearly identified spots. When you enter the area, an information panel reminds you of the best practices and gives information on any temporary restrictions on fishing, for example for health reasons. 
Shellfishing starts when the tide is going out. When the tide is low, it is the right time to get back in order to avoid getting trapped by the waters.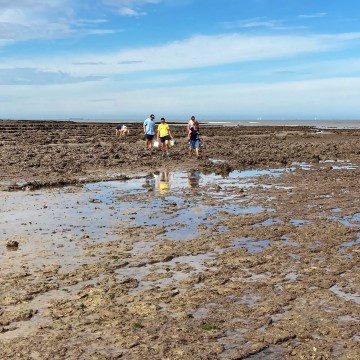 "My bucket, my spade…": the shellfisher's equipment
There is no need for sophisticated equipment to shellfish in Charente-Maritime safely! Here is the basic equipment:
Wellington boots
A hat and some sunscreen
A bucket or a basket 
A few authorised tools: "piochon" and "démanchoir" for oysters, "grapette à main" for clams and common cockles, "ferrée" for razor shells. 
Shellfish: what is the regulation regarding shellfishing
According to rules and regulations, an individual may pick 5 kg of shellfish per tide, across all species. Common sense dictates a basic rule: be sensible and only pick what you are sure to eat and to know how to cook, according to your appetite.
Respect the maximum authorised quantities for each species, otherwise you may be fined... For instance, 5 kg for oysters, 2 kg for common cockles, 200 units for clams. 
There is a minimum size under which species should not be picked, otherwise they do not have time to reproduce and resources run out!
Pick up a ruler at the Tourist Office reception to check the size of your catch.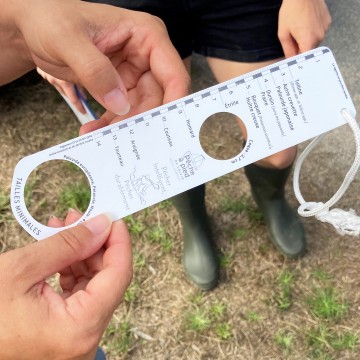 Lastly, your harvest is intended for your own personal consumption and should not be sold. 
To be sure to enjoy your catch at its best, carefully wash the shellfish, store in a cool place and consume quickly. 
Should you have any doubt or any question: the law may evolve so you should enquire frequently: directly at the Tourist Office or on the Préfecture's website. If you're in luck, you may come across a team from ECOLE de la Mer while gathering shellfish, who will be happy to point you toward good shellfishing practices!
Foreshore: an area with fragile biodiversity
When the tide goes out, it uncovers an entire ecosystem among the rocks and in the lower beach, within an area called the foreshore. In the short time of the tide, it gives us the opportunity to draw on its resources, however it is a highly fragile environment. Sea anemones, seaweed and crabs live there... An entire fauna and flora living in harmony with the tides. 
In order to preserve this ecosystem, we must avoid raking and ploughing in favour of less harmful fishing techniques. Make sure to always put back rocks how you found them. Numerous species use them to shelter from light and it takes 3 years for a boulder which hasn't been replaced right to restore its original biodiversity.
The association, which is headed by Isabelle Autissier, aims at informing and raising awareness towards coastal preservation.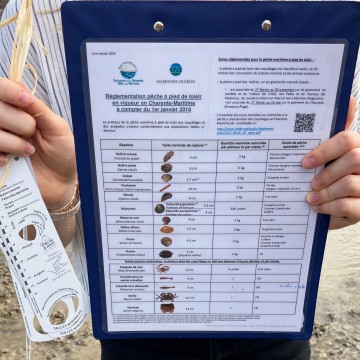 With the right equipment and the right information regarding the regulations of shellfishing for oysters and other shellfish, you are all set for an escapade on the foreshore during the next tide. A hobby to be shared with the whole family: younger ones are always eager to catch a few shellfish in their landing net, while others are always eager when thinking about the evening meal. A pastime that's fun, delicious and educational, and will have you discover the location's coast as you've never seen it before!