From Esnandes to Marsilly
Published 10/09/2019 - Updated 14/01/2022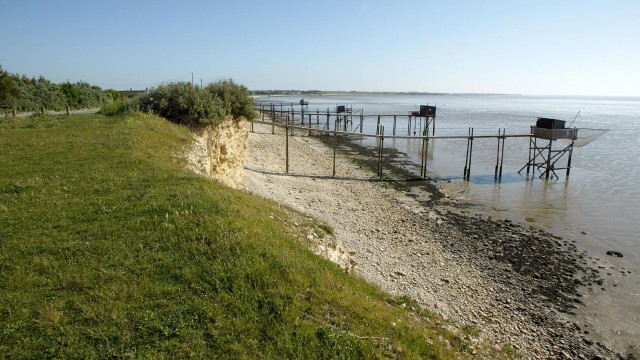 favorite_border
Baie de l'Aiguillon
There are some places where nature is the priority. This is particularly the case at the top of Pointe Saint-Clément in Esnandes where you can admire the magnificent Baie de l'Aiguillon.
But that probably isn't what Patrice Walton was thinking when he got shipwrecked there in the 13th century! The first thing on his mind was food. He put stakes in the mud with nets stretched between them to catch migrating birds. He couldn't believe it when a few hours later he didn't find trapped birds but loads of mussels stuck to the stakes. And so "Bouchot" mussel farming was born!
La Maison de la Baie du Marais Poitevin
In the lovely Esnandes commune, la Maison de la Baie du Marais Poitevin welcomes you to the Musée de la Mytiliculture (Mussel Farming Museum) where you can discover the mussel culture and ecosystem of Baie de l'Aiguillon. And opposite the museum, don't forget to climb the steps of the fortress with stained glass windows: the fortified Saint-Martin church! From the rampart walkway you will be able to venture into Marais Poitevin and l'Océan.
It's a great place to start a long walk along the coastline, going past Port de la Pelle in Marsilly, which is known for its mollusc farming. A calm and authentic atmosphere seeps from the paths between the land and sea... Interested? Why not make the most of your trip and discover the Old Graffiti Museum established in a 17th and 18th century building.  
And if you are a golf fan, why not pay a visit to Golf de la Prée (Field Golf), where the name refers to how the land used to be used as a salty field for raising cattle. You will instantly fall in love with the stunning setting overlooking the sea.
With all the walks and tourist attractions, you are going to have the best day ever!