The autumn event
The best of TV Drama
The TV Drama Festival is a must-see in September where in the space of 5 days you can discover all of this season's audiovisual productions that haven't been released yet. Around sixty French and European dramas are therefore shown in free sessions to the public (space permitting).
Every year a selection of French works are screened as part of an official competition where the jury is chaired by a star actor or actress. Discover never before seen films that reflect the best of audiovisual productions: TV films, 90min, 52min or 26min series, short programmes and web and digital series.   You will be at the heart of everything TV!
Besides the competition, there are also big Autumn audiovisual events where the channels screen their unseen dramas every night at La Coursive in the heart of La Rochelle.  
This event is also the only time that professionals in the field can get together and discuss and create future dramas through case studies, panel discussions and lectures. Every year more than 2000 professionals come together here in La Rochelle.
Meetings about developing French-speaking TV
There is more of an international presence every year at the festival, both in terms of the number of professionals there but also by the key figures at meet and greet events with the public and French professionals. This increased presence shows Europeans' growing interest in the quality of productions launched by French-speaking writers, directors and producers. 
In 2018 the Festival therefore created a new event: Meetings about developing French-speaking TV Its aim is to facilitate and focus on meetings between international investors and French producers and French-speaking project sponsors for French series that have international potential.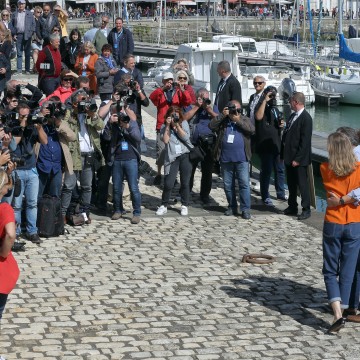 Meet and greet with the comedians
Advice for autograph hunters
In the Cours des Dames and in the town you will be able to meet your favourite stars after photo shoots or during special signing sessions organised in the Festival Village.