The 7th Art Festival 
Honoured cinema
The Festival International du Film de La Rochelle (La Rochelle's International Film Festival ), is a love triangle between a town at the start of summer, a curious and enthusiastic public and films sold all over the world. The festival shows around 200 films over 10 days in different places throughout the town like La Coursive, the CGR cinemas Le Dragon or l'Olympia, La Sirène, the Centre Intermondes, the Media Centre and Belle du Gabut. Fictional, documentaries, cartoons, French and world cinema, current and old, in all kinds of formats... every year this unmissable festival provides a rich programme.
Since it was established in 1973, the Festival has remained non-competitive, opting for comparison over a showdown about which is better. It's based on several highlights.
You will therefore experience film-makers or former actors looking back on their time. Their work is shown in its full form as much as possible, focusing on forgotten films or films that haven't been released yet or on those that have just been re-released. You will also be able to pay homage to directors or actors who have been invited, or even discover film-makers that are unknown in France. There are also three sessions dedicated to kids films every day, so kids have their own specific programme! 
Festivities
To finish off its rich cinematographic programme, La Rochelle's International Film Festival invites you to friendly gatherings around the cinema. You can also stay up all night on the last night of the festival where 3 films are screened between 8pm and 2am, and there are film-concerts, presentations, gatherings after the films and exhibitions.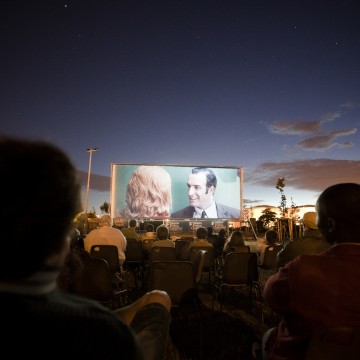 Open air cinema
"Passeurs d'images"
Every summer the festival is part of the "passeurs d'images" initiative where films are screened outdoors for free in the heart of la Rochelle's districts and the towns in the surrounding area. Get together at nightfall for a movie night!