"The good old days"
Charming and authentic
A lovely resort with an unspoiled and authentic charm, Châtelaillon-Plage  has lots of great features: a big white sandy beach, incredible architecture that has been maintained from "the good old days", safe urban and country walks and all the local amenities you need on tap in one little village.
With over 3km of beach, you will be able to choose the activity that best relaxes you: chill in the sun or have a snack with your feet in the sand at one of the beach bars. There is also a kids club and swimming lessons and free gym sessions... Even thrill seekers can start the water sport of their choice: sailing, jet-skiing,kite-surf and loads of others.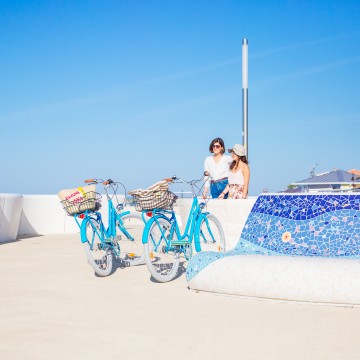 Experience the oyster-farming tradition
Le Village des Boucholeurs (The Mussel-growing Village)
The Village des Boucholeurs is a real place bathed in authenticity where the oyster and mussel farms are based and always in business. Time for a stunning trip by the sea, walk or cycle to learn all about our heritage, knowledge and traditions! And don't miss the Oyster and Mussel Festival in August! A festive day which perpetuates the village traditions of eating outdoors, sampling oysters and mussels, games on the foreshore and concerts.
Festive and good community spirit all year 
With a dynamic community spirit, the resort likes to party! Each time they celebrate festivities, like the Kite and Wind Festival, dozens of thousands of tourists go and visit. The Kite and Wind Festival is a must-see event where hundreds of flying objects designed by the participants take over the sky. Organised over Easter weekend, it's a magical event that the whole family will love. But also, Châtel has their festivities in the last weekend in June with their incredible fireworks, free summer concerts, daily shows for kids or even the "Escales Gourmandes" where you can try local foods in October!