The quirky district of St-Nicolas !
Published 27/08/2019 - Updated 14/01/2022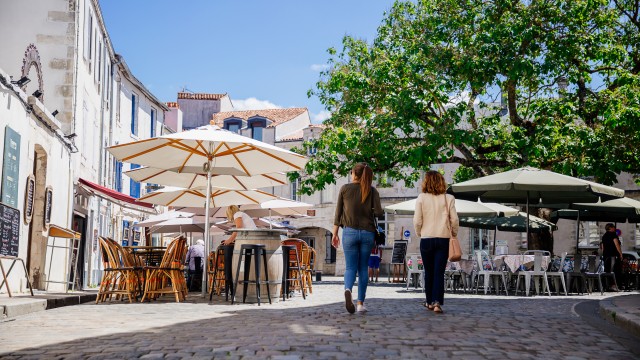 favorite_border
The St-Nicolas district, which used to be the fishermen's district, is nestled between the train station and the Vieux Port (old port). It exudes charm with its cobbled streets, its lovely little square snuggled in amongst the trees and its houses tucked up under the old arcades.
In this tranquil pedestrianised area, stop off for a shopping spree and some downtime!
By day, there is a mellow and bohemian vibe...  
With all the spirit of a little village and with its bakery, butchers and restaurants on the cosy intimate terraces, the St-Nicolas district moves at its own rhythm, not far from the hustle and bustle of the docks of the Vieux Port. It's a little bohemian, with its art galleries and book shops, its second-hand shops, its lovely window displays and its outdoor record shops, it's perfect for relaxing and for mindless strolls...  
At meal times, the murmur of conversations from the terrace and the chinking of cutlery whet your appetite... you might want to take a seat and join them! Its pretty pedestrianised streets and its must-see Place de la Fourche make for the perfect setting for an outside lunch.
St-Nicolas' flea markets!
If you like to hunt for unique antiques and treasures, go to Place de La Motte Rouge. Firstly, there is the professional flea market every Thursday and Saturday in the Place de La Motte Rouge in the shaded area from the trees. You'll find your childhood comics, old postcards from the region or even little vintage utensils, like little wooden barrels to keep your leg-of-mutton sleeves, glassware adapted to each drink and lots of silverware engraved with family monograms.
So although its only spitting distance from the Vieux Port, it feels like you have gone back in time to the old La Rochelle!
But it is also here that a crafts and creative market sets up every summer. You will love sauntering along past their pretty, white, wooden shacks.      
You must see La Guignette!
At the end of the day, start your evening off with a walk to La Guignette. Well known by the locals and even beyond la Rochelle, this wine cellar is an institution here. And it is going to be 85 years old in 2018! Established in a blacksmith's old workshops, La Guignette embodies these traditional places, where the decor reflects life in the district over the last few decades. Since 1998, La Guignette has been the PDO for an aromatic wine-based drink* which is used for tasting: the green one is apple, the red one is red berries and the yellow one is citrus fruit... 
When the clock announces it's time for La Guignette to close, the party goers will continue on into the night in the nearby bars or, when it is nice weather, in the open-air dance hall "Belle du Gabut"!  
 
Shall we go?

*Alcohol abuse is bad for your health, consume in moderation.
To each his own style
Recommended for you
Family, two or solo … Find smart ideas to satisfy all your desires.