Les Halles
Historic site and monument
Historic patrimony
Covered market
favorite_border
Les Halles
Place du Marché
17000 - La Rochelle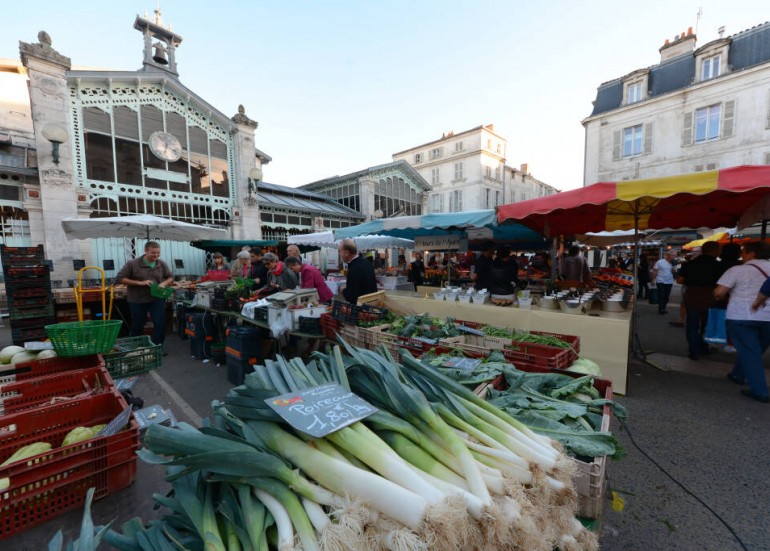 An emblematic building of the historic city centre, the 19th century covered market is held every day. It is a building not to be missed in La Rochelle.
The covered market was built on the site of the Grande Boucherie, the city's first meat market, built in 1443. This first food market was built to the plans of the architect Brossard. Built in Charentes stone, dated on the façade "1834", it is covered with a large wooden frame. It opened to the public in 1835.
In 1893, the building was enlarged under the direction of the architect Corbineau, and side aisles were added to the central nave. The use of metal and glass meets the requirements of safety and health. Materials such as granite, brick and terracotta were used.
On the other side of the square, a half-timbered house faces the market and the "Tout-y-faut" dead end, at the end of which a mullioned window (fixed posts dividing a bay with compartments) remains, a vestige of a vanished Renaissance house.
This translation is generated automatically
Adequate translation ?
Your request has been taken into account
Périodes d'ouvertures
All year round, daily between 8 am and 1.30 pm.
Accès
Close to a public transportation
Bus station under 300 m
Bus stop < 500 m
City bike station < 500 m
Current trends
Internet users also viewed
Enjoy unforgettable moments in La Rochelle all year round. Accommodation, activities, trips out and walks… appealing ideas for your holiday.