Something for everyone
From walking to water sports
Only a 15 minute walk from the historical centre of La Rochelle, the Minimes district invites you to visit its port! There are loads of way to get there, with bus links to the city centre, foot paths and cycle tracks for your convenience. But La Rochelle has its own special feature and suggests you get to Port des Minimes by taking an electro-solar powered sea bus, which links it to the Vieux Port.
All year or during the holidays, the  Port de Plaisance (marina) and its sailing schools welcome kids and adults to experience beginners or advanced training courses.  Here, you can discover sailing and other water sports in the safest and best learning conditions. Guaranteed escapism!
Port des Minimes, home to big nautical events
The Grand Pavois is La Rochelle's must-see event.  This famous boat show was created in 1973 and every year it attracts more and more visitors and exhibitors. With an international reputation, it is the must-see Autumn event for all professionals working in this sector. Discover the 700 boats on display and the areas with different themes. 
The Port des Minimes also regularly hosts big nautical competitions, bringing together a significant number of boats from all around the world. From Plage des Minimes you will be able to watch the boats line up on the starting line that is just off the coast.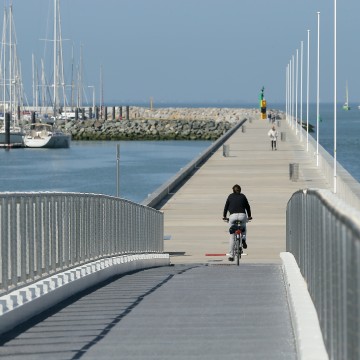 A trip towards new horizons!
The Nouveau Monde sea wall
Whether you walk or cycle, the Allée des Tamaris offers a trip out in the salty sea air along the sea front and at the end of it you can discover La Rochelle's Port de Plaisance. Cross the Passerelle Nelson Mandela which will then take you on to the Nouveau Monde sea wall: it's a great way to walk "on the sea" and to watch the boats going in and out!
1st marina on the Atlantic coast
Today it is one of the main ports in the world. With more than 5000 spaces on the water and the first marina on the Atlantic coast, La Rochelle's Port de Plaisance stops at nothing short of excellence when welcoming visitors and providing services: awarded 4 out of 5 anchors by Gold Anchors, it offers 450 individual "visitor" spaces, 90 of which are at the Vieux Port in the heart of La Rochelle.
To each his own style

Recommended for you

Family, two or solo … Find smart ideas to satisfy all your desires.