Unusual tour Journées du Patrimoine - Le faste des négociants de La Rochelle au XVIIIe siècle
favorite_border
Unusual tour Journées du Patrimoine - Le faste des négociants de La Rochelle au XVIIIe siècle
Place Barentin
17000 - La Rochelle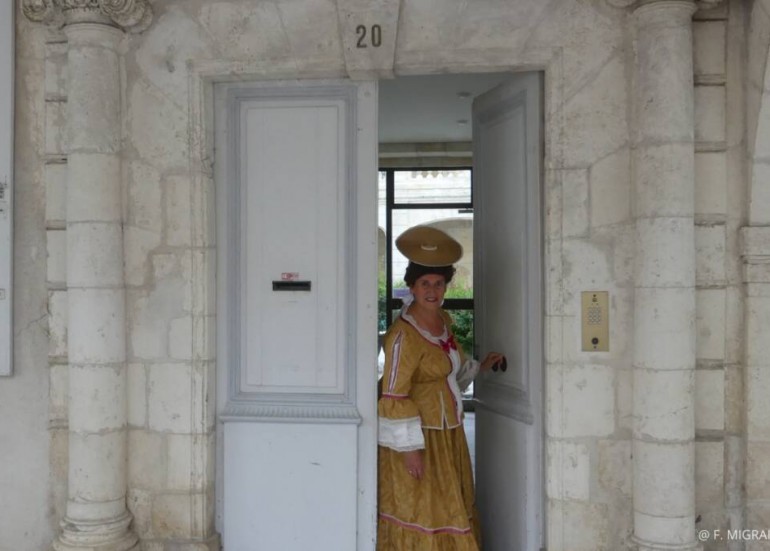 Suzanne Van Hoogwerff, daughter of a rich shipowner, accompanies us from one mansion to another, telling us about the daily life of the Rochelais merchants, during a dramatized visit in costume.
Immerse yourself in the daily life and splendor of the 18th century merchant elite of La Rochelle with Suzanne Van Hoogwerff, a merchant's daughter.

From one mansion to another, Suzanne, in costume, will guide you in the footsteps of this merchant elite who made their fortune, like her father, thanks to the white gold of Saint-Domingue: sugar. She will tell you about her daily life, the meetings in small companies, the role of women, the entertainment of the time, the small arrangements and the strategies to integrate this privileged environment.

Growing up in this environment, she knows all the secrets and will share them with you until the slaves' revolt which will lead to many bankruptcies, including that of her family.

Visit of 1h45 in small groups for adults and children over 8 years old.

On reservation, limited number of places. Special rates for the European Heritage Days.
This translation is generated automatically
Adequate translation ?
Your request has been taken into account
Périodes d'ouvertures
Sunday 18 September 2022 between 10.15 am and 12 pm.
Prices
Moyens de paiements
Chèques Vacances
Bank/credit card
Accès
Current trends
Internet users also viewed
Enjoy unforgettable moments in La Rochelle all year round. Accommodation, activities, trips out and walks… appealing ideas for your holiday.