Trips for rainy days in La Rochelle !
Published 28/10/2019 - Updated 25/01/2022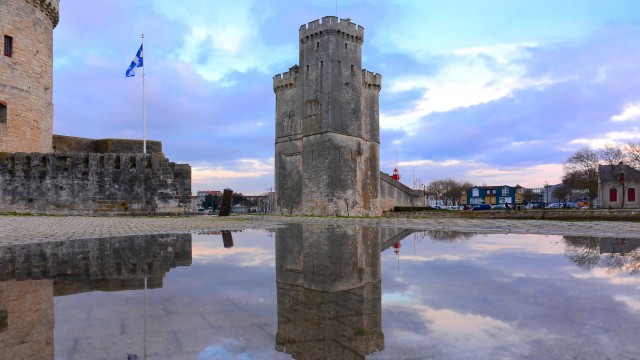 favorite_border
Yes, sometimes the weather forecast throws a tantrum in La Rochelle too... But don't let that put a black cloud over your head!  Here are some of the trips and activities you can do while waiting for the sun to come back out (and it will definitely be soon)!
Visit La Rochelle's must-see sights
La Rochelle is full of history and stories which can be discovered in lots of places and monuments. Go to the heart of each of them to really get to know this part of the coast and set off on a journey to discover some sometimes rather surprising things... Whether it's raining or not, you will be fully immersed in the richness of the heritage and the great sites of La Rochelle:
La Rochelle's three towers will surprise you with their unique individuality and exceptional views over the ports and the city. Every year and in all seasons, the Centre des Monuments comes up with a rich cultural season: exhibitions, concerts, stories, workshops for kids, animated and guided tours... all good ways to discover this incredible heritage! 
At the Aquarium La Rochelle you will meet more than 12,000 sea animals! Sound good? The aquarium is open every day until 11pm in July and August, pop along in the evening to discover this tranquil place and avoid the queues! Also think about getting fast-passes from the ticket office at the tourist information centre. 
Not to mention all the town's museums you can visit... without getting wet! The Muséum d'Histoire Naturelle (Natural History Museum), Musée des Beaux-Arts (Museum of Fine Arts), Musée du Nouveau Monde (New World Museum), Musée rochelais d'histoire protestante (La Rochelle's Museum of Protestant History), Musée Maritime (Maritime Museum), Musée des Automates et Modèles réduits (Museum of Automatons and Scale Models)... you will definitely find something for you in the different worlds of their permanent and temporary collections. 
Something a bit different: visit La Rochelle's bunker! Built in the middle of La Rochelle's city centre in an incredible 300m² bunker that dates back to 1941, it's time to discover this bunker's history as well as La Rochelle's from 1939 to 8 May 1945 (date of its liberation).  
Have fun by doing an activity
Whether you have come with your family or friends, don't let the bad weather get to you and go for a swim (yes, you can still go if it's raining!) in a water park, push yourself in the gym or have a laugh over a board game!
No kids to look after? Make the most of it and treat yourself! With a spa, balneotherapy or health centres... there is just one thing on the agenda: relax. 
And why not try your luck at La Rochelle's Casino Barrière? Enjoy exceptional facilities all along the Mail paths in the city centre: with a panoramic view overlooking the sea and all kinds of events waiting for you all year.
Go shopping
One of the perks of La Rochelle, both pretty and practical, is its arcades! Under these architectural masterpieces are several shops selling clothes, knick knacks and other souvenirs to take back with you!
Get comfy at the cinema
Indoors and sitting comfortably in the cinemas' red chairs and in front of a good film, there is no better way to forget the weather forecast and escape! Three cinemas open their doors to you:
Vieux-Port : Cinéma CGR Dragon ; Place de Verdun : Cinéma CGR Olympia ; Minimes District : Cinéma Méga CGR.
It's raining and you're happy? It's pretty standard!
To each his own style
Recommended for you
Family, two or solo … Find smart ideas to satisfy all your desires.