Découvrez un parcours sonore en 12 étapes, qui guide le promeneur du Port de la Rochelle jusqu'à la Pointe des Minimes.
Lancement d'une fiction sonore en 3D à La Rochelle
Voyage au bout du Monde est un récit déambulatoire en son immersif, un film pour les oreilles en plusieurs actes, en plein air sur un cheminement de 4 kilomètres environ, et qui présente, de manière romancée, l'histoire vraie d'André Bronner et du Phare du Bout du Monde.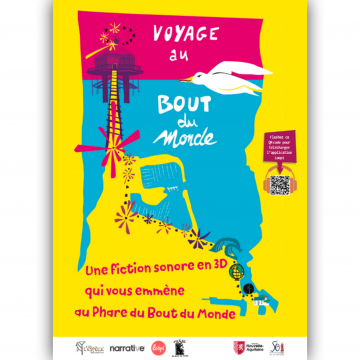 Association Le Phare du Bout du Monde
Téléchargez l'application Loopi. L'application vous emmènera, comme tout bon GPS, au départ de la ballade. Nous vous conseillons de vous équiper correctement (vêtement, chaussures) pour pouvoir profiter pleinement de l'expérience sur tout le parcours (environs 4,7Km, 1H-1H20 de marche). Bon voyage !
To each his own style
Recommended for you
Family, two or solo … Find smart ideas to satisfy all your desires.