Easter holidays: with family in La Rochelle
Published 23/03/2021 - Updated 22/10/2021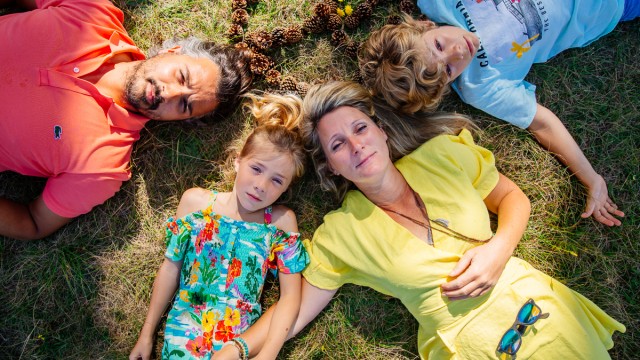 favorite_border
Spring in La Rochelle is simple and family-friendly. Its landscapes and coastline offer a host of opportunities to enjoy unforgettable moments with loved ones. Between the numerous parks and green spaces, the region's nature reserves and the long coastal and countryside paths, it's easy to find a little corner of nature to get away from it all ... Discover our suggestions for a trip away from the crowds, back to basics and all in the great outdoors!
Top five activities to enjoy with the whole family
From the coast to the surrounding countryside, the La Rochelle region is a true playground and land of discovery: 
1/ Take a bike ride to discover the area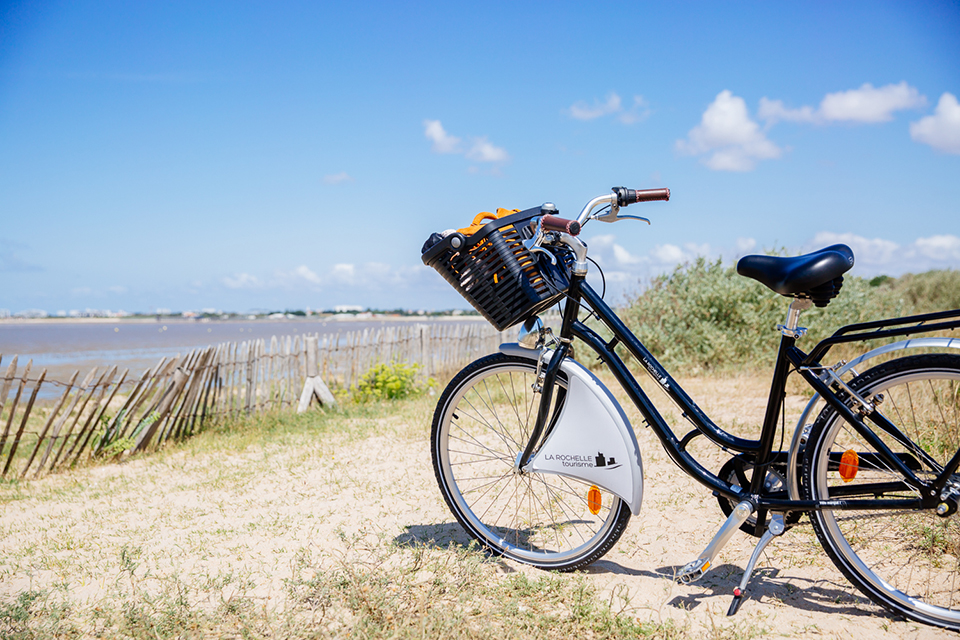 With its 230 kilometres of cycle paths, La Rochelle is a cycling paradise. You can opt for a city ride, exploring the arcades and cobbled streets of La Rochelle. Or, perhaps, to feel the ocean spray and enjoy some fresh air, you might want to explore the coastline. Finally, there are a range of country bike rides to choose from. Take La Vélo Francette or La Vélodyssée to follow the green belt along the Canal de Marans. Get your helmet on, and discover some truly stunning sites!
Bike ride ideas
Bike rental companies
2/ Give in to the call of the sea: now boarding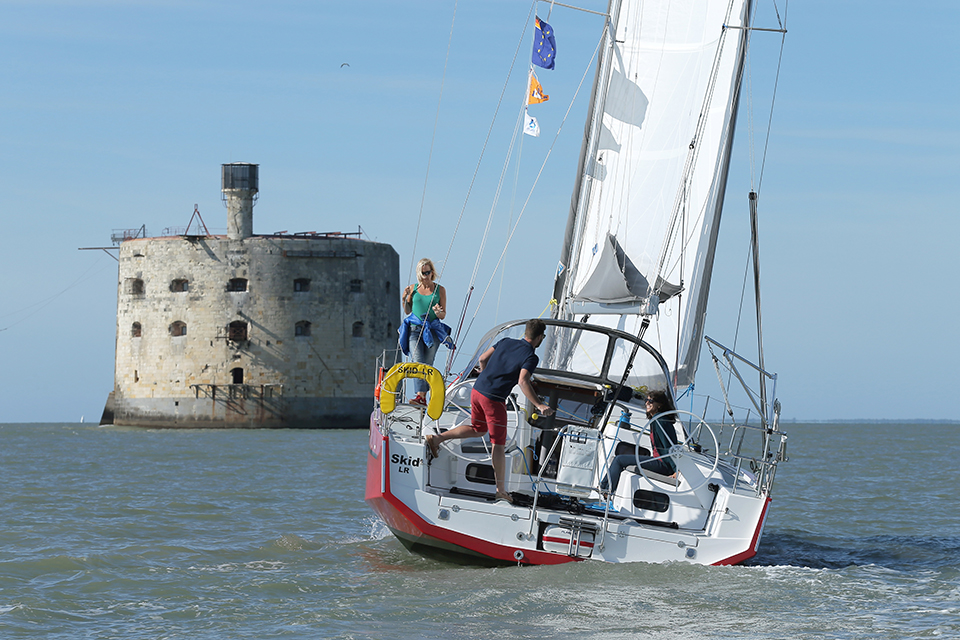 Big sailors and little sailors alike, give in to the call of the big blue and enjoy a healthy dose of sea air! On board a catamaran, a sailboat, a kayak or even a paddleboard – enjoy unforgettable experiences. To learn the basics of sailing, practice nautical activities or simply enjoy a sea cruise, there's nowhere better than La Rochelle! 
Boat trips departing from the ports of La Rochelle
Find a nautical activity in La Rochelle
3/ Meet the animals
It a well-known fact that contact with animals offers plenty of benefits ... and what's more, children love them too! From farm animals to more exotic creatures, La Rochelle is full of wonderful places to get closer these animals, observe them or even touch them.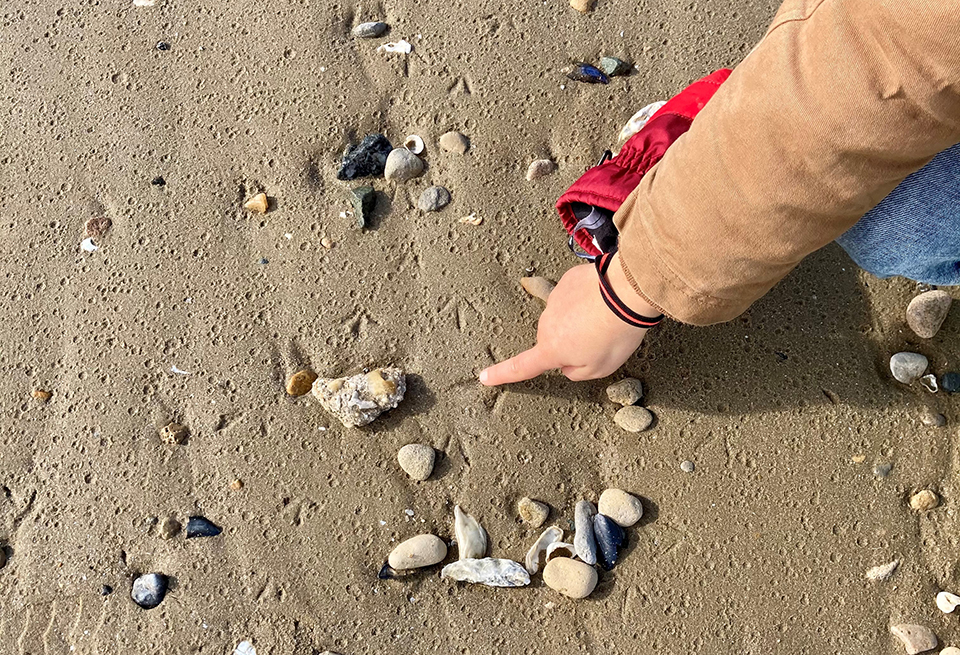 Discover the birds: The Marais d'Yves nature reserve (open) with extraordinary natural heritage: this is also a magnificent place where it is possible to spot a variety of different birds. Accompanied by a nature guide, you'll discover all the richness of the site's biodiversity in a fun, sensory and scientific way (max 5 persons, by reservation). Bird watching in the Marais d'Yves
If you're looking for a donkey ride, the Asinerie des Varennes is the perfect location. You'll also have the chance to discover life on the farm: feeding the hens, collecting the eggs, brushing the donkeys ... in other words, a paradise for children! And to discover all the benefits of this big-eared animal, take a tour of the Asinerie shop: you'll be surprised at all the virtues donkey milk has to offer. Discover the Asinerie des Varennes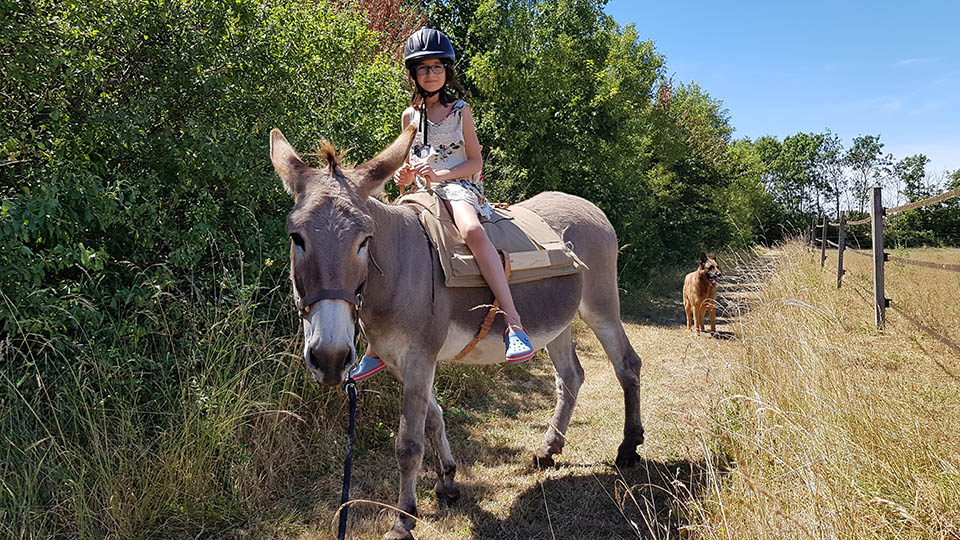 Donkey rides: open, max 6 people, by reservation
Farm visit: Duration: 1 hour 30 – Price €20/child – Accompanied by an adult – Mini group of 6 people. – By reservation – From 10 April
Even more unusual, Laurette's ostriches await you in Marsilly. On site, you'll find a whole host of other animals too: pigs, goats, sheep, ponies and more.A fantastic day of discovery awaits you, with the added bonus of being able to purchase great-quality farm products directly on site from the shop (Easter 2021: open, ostriches may only be seen from a distance). Meet Laurette's ostriches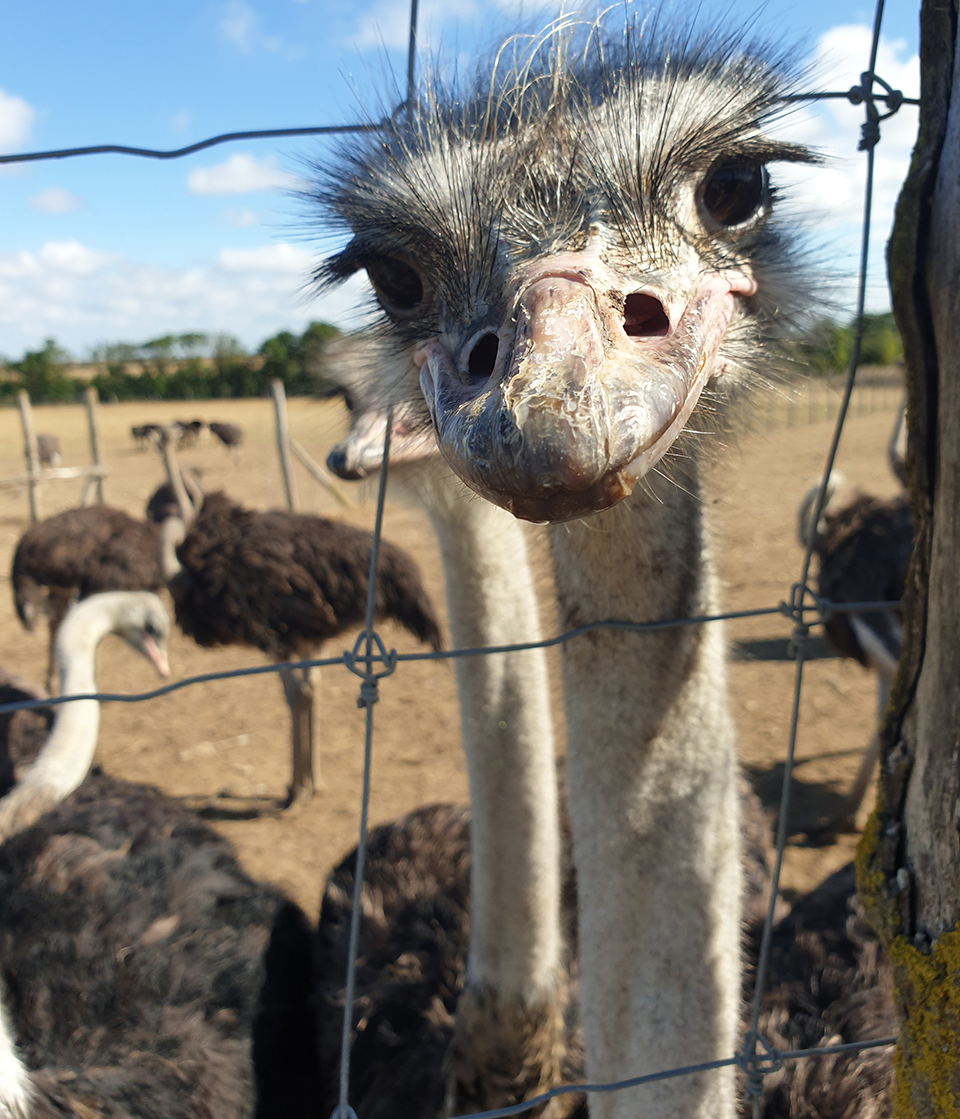 Finally, discover a spot of nature in the city centre of La Rochelle with the Charles-Edouard Beltremieux animal park. Open all year round, you'll find it in the extension of Parc Charruyer, just a few steps from La Concurrence beach. Goats, cows, ducks, peacocks, parakeets and more all live together, offering a delightful experience for children and a relaxing break for adults. You'll even have the chance to see the Baudet du Poitou donkey there, recognisable among the rest with its Rasta-like coat. Walk through the La Rochelle animal park
4/ Explore and have fun with Terra Aventura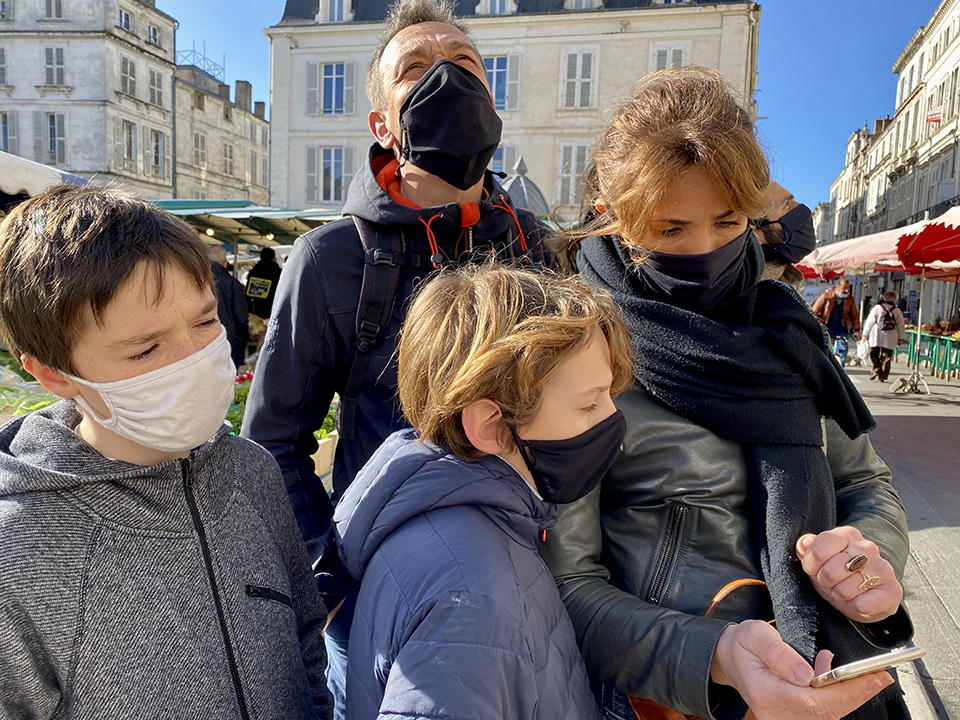 Do you like puzzles, discovery and outdoor walks? Looking to have fun with the family? Well, let yourself be tempted by the Terra Aventura routes! Walks of a few kilometres in distance, accompanied by funny fictitious characters and a treasure to be found ... the perfect combination to discover and learn, while having plenty of fun! Terra Aventura walks are an opportunity to explore the natural and cultural riches of the region, through observation games and stories. La Rochelle offers five fantastic routes, offering plenty opportunity to stretch your legs. So, get on your smartphones, download the app and let's start exploring! 
Discover the Terra Aventura routes
5/ Enjoy a tailor-made guided family tour
Not a fan of using your phone to go for a walk? Prefer human contact and love to chat? Well then, the private guided tours offered by the La Rochelle Tourist Office are made for you. Secret corners of the old town, anecdotes, little and long stories alike ... (re)discover La Rochelle at your own pace and in a very small group. 
Share an outdoor lunch: the restaurant-picnic alliance
We've never had so many takeaway deals to choose from. Take the opportunity to organise ready-to-eat picnics in peaceful and charming outdoor locations. Children will be delighted to meet in large and beautiful spaces, to enjoy themselves with complete freedom; while you'll be delighted to take the time to try some delicious dishes in a relaxing setting.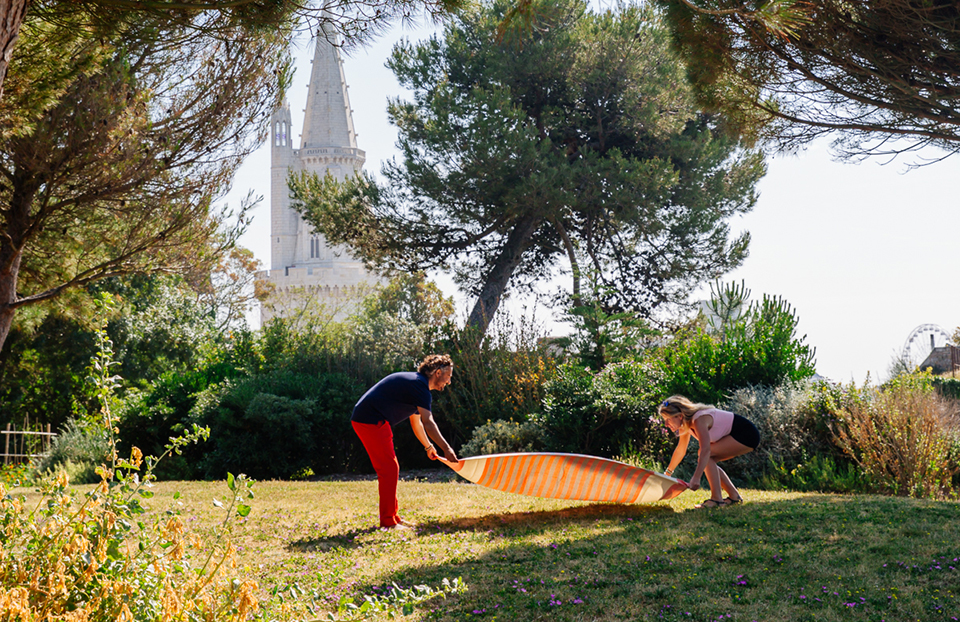 For a picnic by the sea, we recommend:
Enjoying your meal with your feet in the sand on the huge beach of Châtelaillon-Plage.
Taking a seat on a bench in the shade of the trees of Parc d'Orbigny.
Snacking with a view of Fort Boyard along the Parc des Pères.
Settling down on the gorgeous pebbles (flat and smooth, perfect for learning to skip stones) of l'Houmeau beach.
Eating on the grass before dipping your toes at Chef de Baie beach.
For a countryside picnic, we prefer:
Feasting on architectural treasures such as the Saint-Martin church in Esnandes. To help burn off your lunch, explore the surroundings by following the Esnandes discovery trail. Between land and sea, this village is sure to amaze you.
Spreading your picnic blanket in a green park in the heart of the village of Salles-sur-Mer.There, you can continue your afternoon by stretching your legs as you follow the discovery trail. Salles-sur-Mer is full of treasures of cultural heritage and local legends. Children will love it!
Taking a seat in Périgny park and relaxing while the children enjoy the large green spaces and let off steam.
Taking a walk in the shade of the trees along the Rompsay Canal before enjoying lunch with the family in the Bois de Pins woods in Dompierre-sur-Mer.
The parks and gardens of La Rochelle
The beaches of La Rochelle
Click-and-collect restaurants in La Rochelle
Sleep closer to nature
Sleep close to the farm animals, awaken in the midst of lush greenery and enjoy the tranquillity of calm and peaceful locations ... La Rochelle and all its countryside corners are available to you and promise unforgettable, timeless family experiences.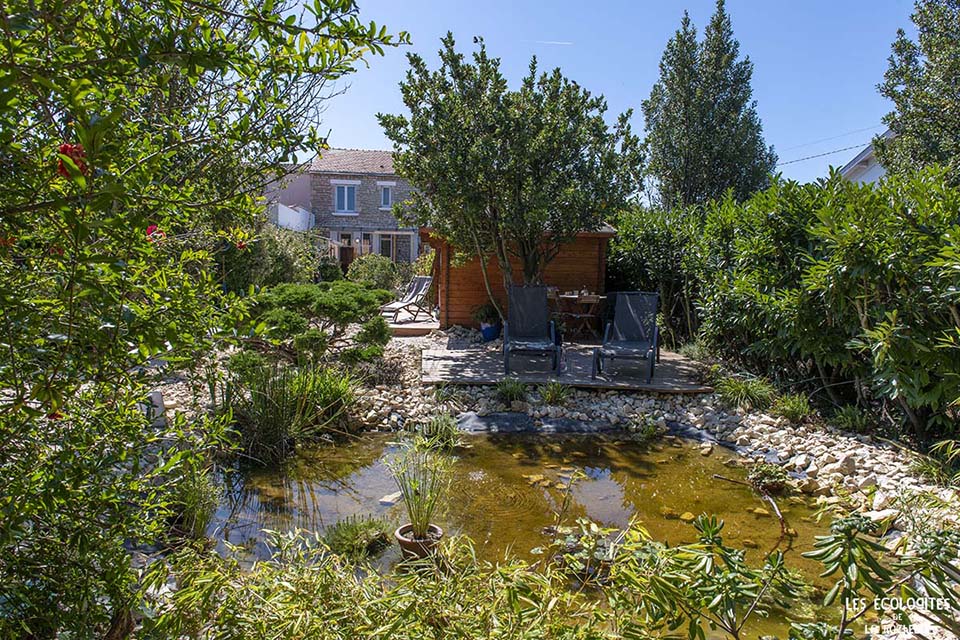 A selection of our favourite B&Bs and campsites: