« Made in La Rochelle »
Craftsmen's Dock
It is in La Rochelle's old Encan at the very heart of the port merchants' area that La Rochelle's craftsmen have set up their studio-boutique.  They will welcome you with open arms and offer you their unique creations. 
For example, it is here that you will find Marina Richer et sa boutique Matlama. A theatre costume designer in training, Marina has a taste for fun shapes and refashioning quirky materials such as pool covers, table covers, flooring, car and plumbing equipment, which she then makes into bags, purses and accessories that are all really original.  All the designs are created by Marina in her studio-boutique and made as a limited edition in different studios in Cholet, La Rochefoucault, Périgny and Tonnay Charente. Her boutique often displays many other artists, craftsmen and designers' works.
Just a few steps down the road, Coutellerie Farol welcomes you to his studio-boutique. It is here (and only here!) that you will be able to have your knife handle carved in the shape of a sperm whale! It was during a stopover in the Azores, some islands in the middle of the Atlantic, that Sylvain Berthommé had the idea to make a knife for sailors and travellers in general.  Impressed by the sperm whale hunting that used to to take place on these islands, he decided to shape the knife in the form of this cetacean. Labelled as a Living Heritage Company, all the knives are made in his workshop in La Rochelle's La Pallice district.
Inspired by the sea
As an area with many ports, the area of La Rochelle has always been shipmates with the sea. It therefore comes as no surprise that local businesses have chosen to draw on their knowledge of the sea and redesign the concept to put the wind (back) in the boat's sails. 
The crafts shop Espritvoiles , created in 2008 by Sylvie Jaouen, welcomes you to the St-Nicolas district. From La Rochelle, a sailor and wife of an ex sail-making manager, she decided one day to redesign how sails are used to make unique and customised umbrella sails. She also makes lots of accessories, such as bags, deckchairs, brief-cases and keyrings. 
Near the Musée Maritime (Maritime Museum), the AH5 Sailing  workshop offers you unique pieces and original creations. H5 Sailing makes lots of items from used boat sails, such as bags, decorations, lighting fixtures and accessories, with the marks left on the sails telling sea tales from all around the world...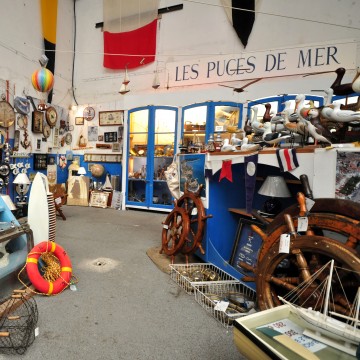 Les Puces de Mer
Quirky souvenirs
At the end of the old encan you can find Puces de Mer, a second-hand store which has been a real institution in La Rochelle for more than 30 years. You can buy replacement parts, navigation tools, mooring lights, melamine dinnerware, rope, anchors, lanterns and nautical clothes!
100% from La Rochelle !
Recognised brands
Established in La Rochelle, some shops have been successful far beyond La Rochelle... maybe you have already heard of them? Make the most of your stay and check out their local shop in the city centre!
The famous group Léa Nature, created by Charles Kloboukoff and located in Périgny, has offered natural and organic products since 1993, so its reputation is well-established. Go to the Envie de Nature shop on Rue du Temple in La Rochelle to discover the well-being range and shower bar.
All along the market halls, the Merling Cafes offer all kinds of tea and coffee that you can take the time to enjoy while sitting comfortably in the seating area. This company was founded in 1979 in La Rochelle by Vincent Merling, who is also the president of La Rochelle's rugby team, Atlantic Stade Rochelais! 
Created in 1999 by Yann Dalibot, the brand Soöruz is well known by local gliding sport fans. The brand has a shop on Rue de la Ferté in La Rochelle where you can buy high quality wetsuits and surf wear and products that are made from sustainable and eco-friendly materials.
 
To each his own style

Recommended for you

Family, two or solo … Find smart ideas to satisfy all your desires.