Michelin starred dishes
Christopher Coutanceau, 2 stars
The Christopher Coutanceau restaurant, has set the bar high for local cuisine, as it was awarded with 2 Michelin stars in 1986, has been a member of Relais & Châteaux since 1987 and a member of Grande Table du Monde since 2013
Overlooking the Atlantic Ocean with a magnificent panoramic view over plage de la Concurrence and the horizon, the whole restaurant pays homage to the sea. With sand-coloured walls, beige tones, a ceiling inspired by the seabed, seaweed tassels and a sea patterned carpet, here, everything is flipped, almost submerged... The dishes also evoke the sea, like the water drop shaped plates or the knives that resemble fishermen's knives.
A passionate and committed fish chef, Christopher Coutanceau offers you a traditional yet innovative cuisine where seafood and other little gems from the sea play an important role. A sea-themed menu is therefore offered to you, along with along with a "Signature" menu and a " Local Flavour" menu (with the latter being more affordable), which is the perfect introduction to the great sea cuisine...
L'Hysope, 1 star
The l'Hysope restaurant is located in La Jarrie. Set back in a lovely little lane, it's a quirky place where the decoration transports you into a strange world that is like a cabinet of curiosities. 
Nicolas Durif is an Alsatian chef who became Michelin-starred in 2018. His cuisine is modern and creative, featuring vegetables and plants grown by local market gardeners as well as fish from the fish market. Aromatic plants also feature in Nicolas Durif's dishes, as he uses several summer and winter varieties including "hysope" (hyssop). This scrubland plant has become almost like the restaurant's logo, to the extent that the restaurant was named after it! 
Knowledge, inspiration and a hint of defiance come together in this chef's dishes to tickle your taste buds!
Blue, white and pink collar work
Johan Leclerre, "meilleur ouvrier de France"
Johan Leclerre, the chef of La Bella Donna en Ville which is a stone's throw away from La Rochelle's old port, has been wearing the collar for "Meilleurs Ouvrier de France" (Finest French Chef) since 2007. As the grandson and son of fishermen, he discovered he had a taste for cooking at family meals that were organised for when they got back from their fishing trips.
In his restaurant, he work perfectly with a italian pizza and with the best meal of Italy like the delicious Osso-Bucco.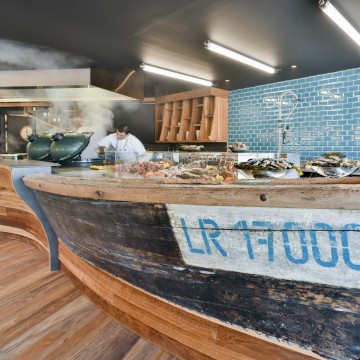 La Yole de Chris
The sea bistrot
Directly behind the Christopher Coutanceau restaurant, the two star chef and his business partner opened an original place in 2018 where the sea-themed menu is divided into food that is raw, grilled or cooked by woodfire. From a shellfish buffet to home-made ice cream, the restaurant is open 7 days a week from 11am to 11pm. A chilled and chic location if you like somewhere that's authentic, simple and a genuinely good restaurant! Menu and tips, without wine: between €35 and €70.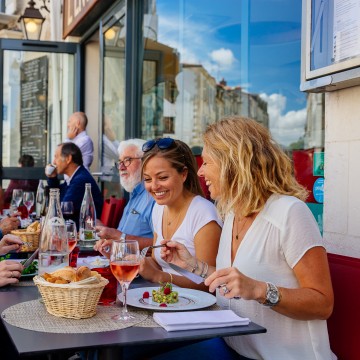 Gault & Millau 
Distinction 
In La Rochelle, 28 restaurants are listed in the Gault & Millau guide for food fans !
 
To each his own style

Recommended for you

Family, two or solo … Find smart ideas to satisfy all your desires.