Learn on the go
Understanding the foreshore
When the tide goes out, it leaves another world nested among the rocks and at the bottom of the beaches. This is the part of the coastline that we can see at low tide and that we call the foreshore. During these discovery outings, the "E.C.O.L.E (L'espace de Culture Océane du Littoral et de l'Environnement - Sea Culture of the Shore and Environmental Area) de la mer" or "Sea school" association talks about the amazing life forms that live there, drawing your attention to the stunning anemones, seaweed and shellfish, as well as the radiant coloured flora and fauna. It's definitely worth seeing to better understand the the special features of our coasts' landscapes.
Fishing from the shore
This is one of the best things the sea has to offer when the tide is out. Pick up the oysters and periwinkles, look for crabs and prawns among the rocks, find clams hiding in the sand... fishing from the shore is a great activity to do as a family on the shores of Aytré, Angoulins and Houmeau.
Make sure you protect the ecosystem, you must respect the fishing guidelines: minimum size, closing times, fishing zones and the number of fish you are allowed to catch 
Also, before you start, make sure there aren't any fishing bans for health reasons on the signs near the shore or in your commune. Also check the tide tables and start going back up to the dry land while the tide is still out (we normally get 2hrs of fishing while the tide is out).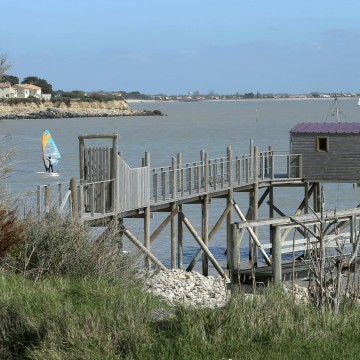 A walk on the foreshore
Pointe du Chay
From the top of the cliffs, 140 million years gaze back at you! Oceanographer, Emeric Bourineau, will take you to the Pointe du Chay, which is renowned for its fossils, and tell you all about the sedimentary strata that you can see in the rock. He will passionately tell you about how they were formed, the climate history and the recent shifting of the coast and beach. In July and August, there is a meeting every Monday morning in Angoulins and on Saturdays in Aytré. It's free and everyone is welcome, perfect for a family outing. (Info : 05 46 41 14 68). 
To each his own style

Recommended for you

Family, two or solo … Find smart ideas to satisfy all your desires.