Flows green until Marans
Trip in the shade of the trees
After a lovely relaxing and lazy day at the beach, go along Rompsay Canal to see a much greener setting. On foot, by bike or even by canoe, this water path which flows to the bottom of the chlorophyll filled cradle has a relaxing and zen effect. Under the shadows of the ash trees and elms, you can see many species that live in the waters and the banks of the canal: the white little egret rummaging through the water with his beak, the swans gliding between the water plants but also the tree frogs, dragonflies and the moorhens. Look closely!
However, if the nature here is flourishing and protected, the canal is man-made and has a bit of a hectic history, as it was the outcome of difficult construction works that started in 1806 and went on for 80 years! 24km long, the canal links La Rochelle to Marans, going through Périgny, Dompierre-sur-Mer, Saint-Ouen d'Aunis and Andilly. 
With loads of landmarks, recreational areas, and picnic spots, it is a great spot for summer events. The canal, which is called Rompsay when it's referring to the bit coming out of La Rochelle, also follows the paths of the Vélodyssée and Vélofrancette cycle routes, much to the delight of cycling fans.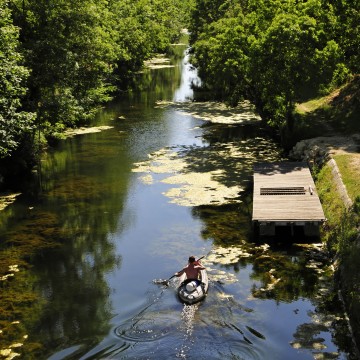 Follow the canal in a canoe
Over the water
The calm waters of the canal are perfect for family trips. The canoeing base is located in La Rochelle before the Pont des Salines. From April to September you can go on different routes that are various different lengths, starting from 30 minutes a day if you want to get to the Pont de Mouillepied in Dompierre-sur-Mer.
 
To each his own style

Recommended for you

Family, two or solo … Find smart ideas to satisfy all your desires.