Dream… and understand the sea
Drive into the depths of the oceans
In the city centre, for 2 hours, the visitor is invited to discover the depths of the oceans, as they come face to face with 12,000 sea animals and the biodiversity of the Atlantic, the Mediterranean and the Tropics. In 3 million litres of sea water, from delicate jellyfish to fascinating sharks, it's a unique and interesting trip for all the family.
In the warm Atlantic waters, you will discover the amazing species on the foreshore, cuttlefish, rays, sole, flounders and seahorses! As for the Mediterranean, it will reveal the richness of its waters: cardinal fish, boarfish or longnose hawkfish... they have some funny-named fish! 
Keep going to get to the Oceanic tanks with open water fish like the barracuda or the guitarfish. Next there are the sweet Tropics with their shimmering colourful fish: French angelfish, blue tangs and hoplo catfish... not to mention the green moray! 
And then there are the Indo-Pacific waters. An incredible place with stunning and striking species that move among the shimmering orange, yellow and violet coral. It is here that you will be able to see the famous clown fish that kids like to call Nemo after the cartoon "Finding Nemo"!
Your tour will end on land in the tropical greenhouse. The path meanders through palm trees, vines, tree ferns and orchids.  The water around the roots is home to piranhas while tarpons and strange mudskippers writhe about in the brackish waters...
 
Rescuing sea turtles : taking them in and treating them
Every year, La Rochelle Aquarium is notified by a network of key informants, that it set up and oversees, to take in turtles from the Spanish coasts that have been injured or washed up on the Opal coast. Once they have been treated, these turtles are chipped or tagged then released from the beaches of Ré Island at the end of June/ beginning of July when the water is warm. The public are invited along to watch where they can learn a bit more about these endangered species!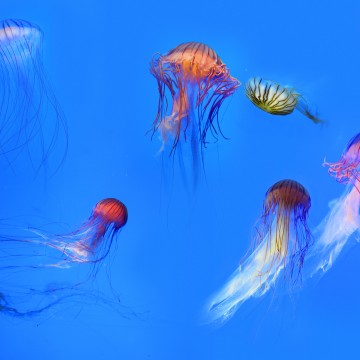 Must-see
Watch the jellyfish dance
From the 360° tunnel in the jellyfish room, you will be captivated by the graceful and delicate jellyfish that have inhabited the oceans for 600,000 million years. These white or pinky creatures glow in the dark and their movements are both fascinating and hypnotising. An amazing show to explore!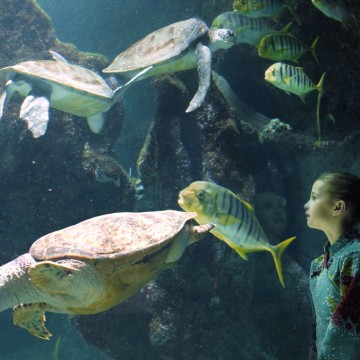 Follow in Antioche's footsteps, the little turtle! 
A special audio guide for kids from 4 and up
Antioche the turtle has become the favourite guide for kids from 4 and up, for a unique underwater experience. This journey follows a turtle who swims around different seas and oceans all over the world discovering different marine ecosystems.
A family affair
A dream come true
Né d'une passion familiale pour le monde marin, l'Aquarium La Rochelle est aujourd'hui l'un des plus grands aquariums privés européens. Fondé par René Coutant en 1970, ses enfants, Roselyne et Pascal ont développé le rêve de leur père en créant une véritable institution avec chaque année plus de 800 000 visiteurs accueillis.
Aujourd'hui, la troisième génération incarnée par Ambre et Mathieu, reprend le flambeau de cette entreprise peu ordinaire. Avec leur passion et leurs convictions, ils poursuivent le développement de l'entreprise familiale à la fois aquarium ouvert au public et lieu privilégié pour la recherche scientifique. Ils s'engagent également au travers d'actions de sensibilisation pour la préservation de la biodiversité.
To come in this wonderful place
The Aquarium de La Rochelle is near from thequai Louis Prunier of and it's open every day of the year
Opening hours :
October to march : 10a.m - 8 p.m
April to june : 09 a.m - 8p.m
July and august  : 09 a.m - 11 p.m
September : 09 a.m - 8p.m
To each his own style

Recommended for you

Family, two or solo … Find smart ideas to satisfy all your desires.