Take a dip or go for a walk... there is something for everyone!
Plage de La Platère, nature in its purest form
In the South East of the Angoulins-sur-Mer commune, on the Atlantic point of the city, the Plage de La Platère is just under a kilometre long. This little beach is supervised in summer and it's a real family favourite because of its peaceful nature and its natural surroundings. And when the tide goes out, you have got a great alternative: fishing from the shore towards the Pointe du Chay. 
It's also in Angoulins-sur-mer, at Port du Loiron, that you will find natural little coves. In these intimate bays, if you can't swim you can freshen up in the water between two sun loungers.
Plage de l'Houmeau, charming pebbles
Plage de l'Houmeau is known for its lovely pebbled coastline formed from the surrounding cliffs. The rounded stones were formed by sea currents that polished the stones and washed them up on the bay. From here, you can see the arches on the bridge on Ré island. If you have beach shoes, you will be able to go in the sea on this tranquil and really natural beach. Are you a fan of big open spaces? This place is also the starting point of a long promenade with an incredible viewpoint at the top of the cliffs.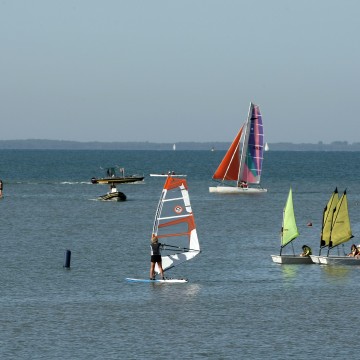 Do water sports
Angoulins Nautical Centre, a must if you want to get out on the water!
At the edge of Plage de La Platère, the nautical centre harbours a body of water in a protected bay, which is perfect for beginners! For parents it's the perfect place to supervise your kids, from the water's edge, while they improve their windsurfing or Optimist sailing in a naturally stunning environment. Paddle boarding is also offered at several points all along the coast. The stability of these big boards makes it a really accessible sport for everyone.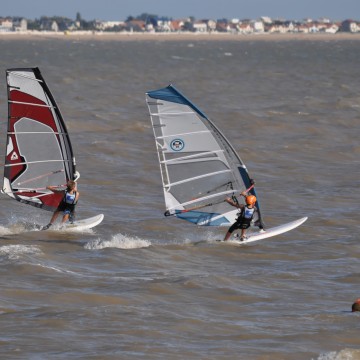 Test the fun board !
Thrills
Windsurfers have several training areas along La Rochelle's coastline. If you are already a seasoned wind-surfer, you will love riding the waves at Port du Plomb in Houmeau. You need to be quite advanced to be able to windsurf here! In Angoulins, Plage de La Platère, near the nautical centre, is a great place for beginners. Which doesn't mean people who are more advanced can't go and show off their skills!
To each his own style

Recommended for you

Family, two or solo … Find smart ideas to satisfy all your desires.